Peak Load Indicator facilitates materials testing.
Press Release Summary: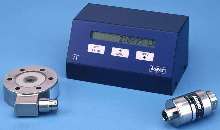 Suited for measuring peak load during tension, compression, and flexure tests, pi Peak Load Indicator offers live load, peak load, and optional load rate display. Product exceeds ASTM E4 accuracy requirements and offers password protected, software programmable calibration, which is stored in permanent nonvolatile memory. Auto-Test-Reset function enables remote onsite testing. Pre-wired pressure transducers and LVDT conditioning modules are also available.
---
Original Press Release:

ADMET Debuts Low-Cost Materials Testing Peak Load Indicator


Captures tension, compression, flexure testing data...

NORWOOD, Mass. - June 16, 2003 - ADMET Inc., a provider of integrated materials testing systems, today introduced a new low-cost indicator for materials testing. Called the pi Peak Load Indicator, its simple setup and easy to read live load, peak load and optional load rate display make it practical for many testing environments. Designed to work with a wide range of materials testing machines from virtually any supplier, the pi Peak Load Indicator exceeds American Society for Testing and Materials (ASTM) E4 accuracy requirements.

The pi Peak Load Indicator is ideal for measuring peak load during tension, compression and flexure tests. Its rugged construction, optional battery pack and Auto-Test-Reset function enable remote onsite testing. The load rate option can be used to ensure that tests are performed according to ASTM specifications when testing concrete cylinders, concrete beams, cement cubes or other types of load rate sensitive materials. The pi Peak Load Indicator is also well suited for proof load testing and measuring pull-out or press-in forces.

"The pi Peak Load Indicator is being introduced in direct response to calibrator and customer requests for a versatile, low-cost device to capture materials testing data," said Richard Gedney, ADMET founder and president. "It allows them to deploy appropriate, easy-to-use, low-cost, highly reliable technology for construction, education, laboratory and manufacturing applications."

The pi Peak Load Indicator offers several features to make operation easy and reliable. Software programmable calibration is password protected and stored in permanent nonvolatile memory; this eliminates the need to manually adjust potentiometers. Peak load results remain displayed until cleared by the operator or the next test commences. Several other features are detailed in a brochure available at: www.admet.com/assets/pi%20Peak%20Load%20Indicator%20Brochure.pdf.

ADMET also offers several options including a pi Peak Load Indicator with Rate Display that includes load rate indication in force units per second, which can be viewed simultaneously with the load readout. Pre-wired pressure transducers and Linear Variable Differential Transducer (LVDT) conditioning modules are also available. The pi Peak Load Indicator is priced at $595 and the pi Peak Load Indicator with Rate Display is priced at $775. Both are available immediately directly from ADMET, as well as from ADMET representatives and calibrators.

About ADMET
ADMET Inc. combines high quality products and services with total cost effectiveness to deliver the industry's most efficient materials testing systems. Its products range from materials testing frames to software and specialized control units. The company offers new testing systems as well as retrofits of existing machines from ATS, Baldwin, INSTRON, MTS, Riehle, SATEC, Shimadzu, Tinius Olsen, United and others. Highly skilled engineers provide customers with personalized research and development services and support to make ADMET the most responsive materials testing equipment supplier. ADMET's loyal customer base includes leading manufacturers, testing labs, researchers and universities in aerospace, automotive, biomedical, construction, metals, plastics, textiles and other industries. ADMET can be reached at 800-667-3320, sales@admet.com or by visiting www.admet.com.

All trademarks are the property of their respective owners.

For further information:
Marc Venet
ADMET Inc.
781-769-0850 X13
mvenet@admet.com


More from Material Handling & Storage