PDMS Sheets and Membranes suit lab and medical applications.
Press Release Summary: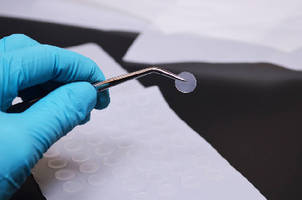 Produced using platinum cure catalyst system, Polydimethylsiloxane is available as sheets or die-cut membranes. Odor-free compound is FDA CFR 177.2600 and USP Class VI compliant. Silicone membranes are supplied as sheets or continuous rolls with thin release layer. Standard thicknesses range from .005–.040 in. with tolerance of ±.002 in. For applications other than gas separation, platinum cure silicone rolls range in thickness from .005–.188 in. and can be slit to custom widths from 3–15 in.
---
Original Press Release:
Interstate Specialty Products Supplies PDMS Sheets and Membranes
Sutton, Massachusetts — Interstate Specialty Products (interstatesp.com), provider of die-cut components and custom cutting services, now supplies polydimethylsiloxane (PDMS) sheets and membranes for laboratory and medical applications.

FDA and USP Class IV Compliant
The Made in the USA manufacturing company can supply ultra-thin PDMS silicones as sheets, and can die-cut PDMS sheets or continuous rolls into silicone membrane products. This polysiloxane compound is FDA CFR 177.2600 and USP Class VI compliant, odor free, and produced using a platinum cure catalyst system. Unlike peroxide-cured silicones, there's no outgassing or catalyst byproduct.

PDMS thin silicone membranes are supplied as sheets or continuous rolls with a thin release layer. Standard thicknesses range from .005" to .040" with a tolerance of plus or minus .002". Interstate Specialty Products also supplies platinum cure silicone rolls for applications other than gas separation. Available in thicknesses from .005" to .188", these rolls can be slit to custom widths from 3" to 15".

Gas Sensing and Gas Separation
Die-cut PDMS sheets are recommended for applications that require a gas permeable / liquid impermeable membrane. PDMS membranes are used in gas sensing equipment, and meet requirements for a very thin silicone gasket or seal made from an FDA or USP grade material. Upon request, Interstate Specialty Products can supply PDMS sheets or die-cut membranes that are reinforced with steel mesh.    

Polydimethylsiloxane (PDMS) ultra thin silicones can also be combined with other materials to form composites with specific characteristics. With many common gases, PDMS membranes are more than 30 times more permeable than non-silicone stable polymers.

Click here for PDMS technical data, or contact Interstate Specialty Products for a quote.

About
Interstate Specialty Products excels at providing die cut components and custom cutting services, including digital die-less cutting to a wide variety of biotech, electronic and industrial applications. Our 50 years of industry experience, attention to the smallest detail and advanced equipment set our work apart.

Contact
Abigail Smalley
800-984-1811
smalley@interstatesp.com
More from Electrical Equipment & Systems