PDA features integrated barcode scanner.
Press Release Summary: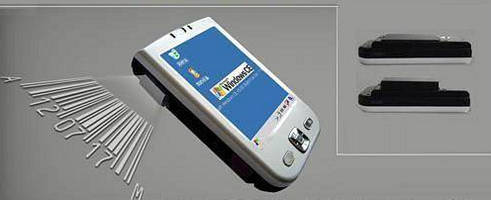 Model N200T Enterprise PDA includes built-in 1D barcode scanner and slot with 2 GB maximum SD card support. Running with Windows Mobile 5.0 (default) or Windows CE 5.0 (optional), device allows users to view/edit Word, Excel, and PowerPoint files with Microsoft Office Mobile, as well as synchronize email and calendar. It includes 400 MHz processor with 64 MB SDRAM and 128 MB flash ROM, USB host interface, and WiFi 802.11 b/g capability.
---
Original Press Release:

Nephsystem Has Released a Low Cost 1D Bar Code Enabled Enterprise PDA



May 11th, 2009 - Vancouver Canada - NephSystem has released a low cost 1D Bar Code enabled Enterprise PDA - model name: N200T. It is designed to help keep your action-packed life in balance, N200T handheld PDAs make an excellent - and affordable - companion to other handheld devices.

NephSystem's N200T Enterprise PDA provides the following features:

1. Runs Windows Mobile 5.0 (default) or Windows CE 5.0 (optional);

2. Offers 400MHz processor with 64 MB SDRAM and 128MB flash ROM;

3. View and edit Word, Excel, and PowerPoint files with Microsoft Office Mobile;

4. Sync email and calendar from desktop with Outlook Mobile;

5. Built-in WiFi 802.11 b/g capability;

6. One unique USB host interface which allows to be connected with the typical input devices, e.g. keyboard, USB stick, mouse, etc;

7. Built-in SD slot, Max. 2GB SD card support;

8. Built-in 1D Barcode scanner

For more information about this NephSystem's N200T RFID enabled Enterprise PDA, please visit www.nephsystem.com or contact inquiry@nephsystem.com or sales@nephsystem.com.

About NephSystem Technologies.

Nephsystem is the leading supplier in the fields of RFID, Smart Tracking Systems and Industrial PDAs. Nephsystem works with partners around the world to ensure that our customers have the right products and solutions to achieve their business goals. We manufacture and distribute a wide variety of industrial embedded products, Wireless communication devices and related peripherals around the world.

For more information please visit www.nephsystem.com.

NephSystem Technologies
B-1285 56th Street, Delta BC, V4L 2A6, Canada
Phone: +1 604-9489063
Fax: +1 604-9489607
www.nephsystem.com
sales@nephsystem.com
inquiry@nephsystem.com

More from Packaging Products & Equipment