PD Series Plasma Deposition Systems eliminate wet chemistry.
Press Release Summary: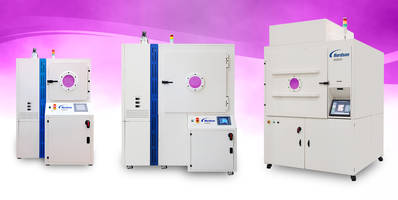 Using plasma polymerization, Plasma Deposition Systems deposit thin films uniformly during precision manufacturing. PDS makes surfaces resistant to corrosion by making it more slippery. PD-1000 and PD-1500 are used for batch prototype and production processing of substrates, PD-Pro has large plasma processing cavity for treating big substrates. Products are used for pinhole-free coating of 100 pm to 1 μm thickness with insoluble polymers.
---
Original Press Release:
Nordson MARCH's New Plasma Polymerization Deposition Systems Deposit Materials During Precision Manufacturing Processes
Uniform film coating changes surface characteristics of the substrate
Nordson MARCH, a Nordson company (NASDAQ: NDSN), a global leader in plasma cleaning and surface treatment technology, introduces its PD Series Plasma Deposition Systems family, which uses plasma polymerization to deposit thin films uniformly during precision manufacturing and assembly processes to change the surface characteristics of a substrate. Plasma deposition can be used for applications in a wide range of industries, including medical, life sciences, industrial, semiconductor, MEMS, plastics, and electronics.
The PD Series for plasma deposition uses a gas vapor or heated liquid monomer vapor delivery system to deposit coatings that can reduce, and in certain cases eliminate, tackiness, provide a tie layer, make surfaces more slippery or resistant to corrosion, act as a drug enhancement or inhibition agent in life sciences applications, and change desired surfaces from hydrophobic to hydrophilic or vice versa. Polymers can be directly attached to a desired surface while the chains are growing, which reduces the steps necessary for other coating processes such as grafting. This is very useful for pinhole-free coatings of 100 picometers to 1 micrometer thickness with solvent insoluble polymers.
The benefits of using plasma deposition include:
Low temperature processing because plasma energy is the catalyst for film growth.
Plasma deposition is uniform and applies coatings evenly over curved or varied-level surfaces.
Precise control of film thickness.
Eliminates wet chemistry. Because polymers are deposited directly from the monomer, there are no waste streams due to wet chemical synthesis or solvents.
Exhibits similar properties to those created via standard chemical polymerization techniques.
Can be used in multiple steps during device manufacture: pre-treat the surface, deposit material, and apply functionalized polymer films.
Three models are available to meet a broad spectrum of manufacturing requirements. The PD-1000 and PD-1500 are ideal for batch prototype, pilot, or production processing of substrates. The PD-Pro has a large plasma processing cavity to treat big substrates or multiple smaller substrates.
For more information contact Nordson MARCH at info@nordsonmarch.com, call +1.925.827.1240, or visit our website at www.nordsonmarch.com.
About Nordson MARCH
Nordson MARCH is the global leader in plasma processing technology for the semiconductor, printed circuit board (PCB), microelectronics, and life science & medical device manufacturing industries. Nordson MARCH has offices and laboratories worldwide, including California, Europe, Singapore, China, Japan, Korea and Taiwan. With over 25 years of continuous innovation, Nordson MARCH designs and manufactures a complete line of award-winning and patented plasma treatment systems. An expert staff of scientists and engineers is available to assist in the development of plasma processes that improve product reliability and increase production yields. Visit Nordson MARCH at www.nordsonmarch.com.
About Nordson Corporation
Nordson Corporation delivers precision technology solutions that help customers succeed worldwide. Precision dispensing of adhesives, coatings, sealants, biomaterials, and other fluids, plastic extrusion and injection molding, electronics testing and inspecting, and surface preparation are supported by applications expertise and direct global support. Nordson serves consumer non-durable, durable and high-technology markets, specializing in packaging, nonwovens, electronics, medical, energy, transportation, construction, and product assembly. Founded in 1954, headquartered in Westlake, Ohio, USA, Nordson has operations and support offices in 30+ countries. Connect with Nordson at www.nordson.com.
For more information contact:
In USA:
Roberta Foster-Smith
Nordson MARCH (International Headquarters)
2470-A Bates Avenue
Concord, California 94520 U.S.A.
Tel.: +1.925.827.1240
Email: roberta.foster-smith@nordsonmarch.com
Website: www.nordsonmarch.com
More from Packaging Products & Equipment