PCT-Based Product promotes interactive display sensitivity.
Press Release Summary: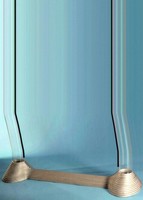 ZYPROFILM(TM) allows businesses to install large-screen, interactive displays that can be operated through glass windows/surfaces up to 20 mm thick. Projected capacitive technology (PCT(TM))-based product offers lifetime drift-free performance and optimal light transmission characteristics. Construction of touchscreen unit consists of hard coated film immediately behind glass surface, precisely spaced grid of microfine-gauge sensing wires, and rear projection film.
---
Original Press Release:

Zytronic Launches ZYPROFILM(TM) - a New PCT(TM) Based Product for Interactive Displays



ZYPROFILM delivers reliable and lightweight large screen interactive display capabilities to storefronts and other applications with glass surfaces up to 20mm thick

Zytronic, a leading designer and manufacturer of technologies that optimize the performance of electronic display applications, has today announced the European launch of ZYPROFILM - the company's latest projected capacitive technology (PCT) based product. The new construction allows businesses to install reliable, lightweight and large screen interactive displays that can be operated through shop windows, under glass tabletops and in other environments with glass surfaces up to 20mm thick.

Zytronic has developed ZYPROFILM by incorporating its proprietary projected capacitive technology onto large format rear projection materials. The construction of the touchscreen unit consists of several layers. A hard coated film is immediately behind the glass surface; the next layer comprises a precisely spaced grid of microfine-gauge sensing wires, and the final layer is the rear projection film itself.

ZYPROFILM is based on the same principles utilized in Zytronic's award-winning ZYTOUCH® touch sensor and offers the same inherent benefits. It is drift-free, which means that screen recalibration is not required during the touchscreen's lifetime, which in turn, keeps operating costs down to a minimum. It is also easy to integrate and offers one of the industry's highest light transmission characteristics.

The ability to sense the touch of a finger through up to 20mm of glass makes ZYPROFILM an ideal solution for turning a glass shop front into a touch sensitive interface, allowing businesses to continue to operate out of hours and customers to gather information. Estate agents for example with the ZYPROFILM application fitted, can offer prospective buyers the opportunity to take virtual property tours, register for further information and book a viewing appointment without even having to enter the premises or speak with an agent. ZYPROFILM is also well suited to tabletop applications such as interactive visitor information systems installed in museums and art galleries.

About Zytronic
Zytronic designs and manufactures a range of technologies that optimize the performance of electronic display applications. The company's principle products include award-winning touchscreen technologies, optical filters for enhanced performance and protection, and special filters to minimize electromagnetic emissions. In addition, the company can offer complex shaped glass composites for specialized applications.

Zytronic products are used in electronic displays for information kiosks, web phones, ATMs and gaming machines, as well as by military, computer, telecommunications, medical and lighting OEMs, and are available from its network of worldwide distributors.

The company is headquartered at its state-of-the-art manufacturing facility in Blaydon, Tyne & Wear in the UK. In addition to ISO-approved manufacturing, this facility is responsible for ongoing product development in composite technology and is home to Zytronic's team of lamination, material science and electronics specialists

For more company information, visit Zytronic's web site at: www.zytronic.co.uk.

For local distributor details, please go to:
http://zytronic.co.uk/contact_distributors_usa.html

More from Architectural & Civil Engineering Products