PCR Thermocycler supports diagnostic applications.
Press Release Summary: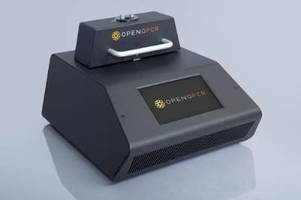 Providing real-time PCR, Open qPCR Thermocycler is capable of genotyping, pathogen presence/absence detection, and relative DNA quantification. Unit features 16-well sample capacity; integrated touchscreen; Ethernet, WiFi, and USB connectivity; and visual, web-based interface for protocol editing, plate layout, and results interpretation. Open API supports automation applications, while low power mode supports isothermal amplification applications.
---
Original Press Release:

Chai Biotechnologies Launches Open qPCR(TM), the World's First Open-source Real-Time PCR Thermocycler



Universities, researchers, biotech companies and more benefit from industry's lowest cost qPCR thermocycler; priced at a tenth the cost of traditional cyclers



SANTA CLARA, Calif., – Chai Biotechnologies announced Open qPCR, the world's first open source Real-Time PCR Thermocycler. The machine was launched via a KickStarter crowdfunding campaign yesterday (http://chaibio.com/openqpcr).



Open qPCR is currently available for $1499 as part of the campaign, and is expected to ship in March 2015. The instrument in capable of genetic genotyping, pathogen presence/absence detection, and relative DNA quantification.



Real-Time PCR is used in diagnostic applications ranging from food safety to viral diagnostics, as well as numerous research applications. "With Real-Time PCR thermocyclers typically costing $20,000 and up, this technology was simply unaffordable to lesser funded university labs, institutes in developing countries dealing with emerging epidemics, and the growing DIYbio/maker movement." says Josh Perfetto, Founder and Chief Executive of Chai. "With Open qPCR, we've lowered the cost of the Real-Time PCR reaction by an order of magnitude."



Chai Biotechnologies' founder CEO Josh Perfetto was earlier the co-creator of the OpenPCR project (http://openpcr.org), which brought the world first open source endpoint PCR thermocycler to market in 2011. With its 16 well sample capacity (100 or 200 uL tubes), Open qPCR is primarily focused on diagnostic applications.



Features of the new qPCR device include:



--  Visual, web-based interface for protocol editing, plate layout, and results interpretation

--  Integrated touch screen supports field use

--  Ethernet, wifi, and USB connectivity

--  Open API supports automation applications

--  Low power mode for isothermal amplification applications

--  Complete hardware design and software to be released as open source when machine ships



The KickStarter campaign runs until December 4(th). The campaign is also raising funds to donate instruments to Ebola clinics in Western Africa.



About Chai Biotechnologies

Chai Biotechnologies is a biotech startup in Santa Clara, CA focused on making the core molecular biological technologies accessible to all, while developing powerful tools for the next generation of synthetic biologists. Chai was founded to develop the Open qPCR  thermocycler announced in this release, and is also the manufacturer of OpenPCR endpoint thermocyclers.



Additional information about Chai Biotechnologies is available at http://www.chaibio.com, or follow our news on @openqpcr(twitter).



Copyright © 2014 Chai Biotechnologies Inc  Chai Biotechnologies and Open qPCR and their logos are trademarks of Chai Biotechnologies Inc.



CONTACT:

Josh Perfetto

Chai Biotechnologies

josh@chaibio.com

650-488-8550



Web Site: http://www.chaibio.com

More from Agricultural & Farming Products