PCMCIA Cards replace missing ports.
Press Release Summary: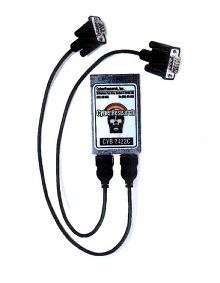 Designed to replace omitted communications ports, 1 and 2 port CYB Series PCMCIA cards provide RS-232 and RS-422/485 COM: ports capable of linking computers to computer-controlled equipment. They are suitable for office, shop, lap-top, and field PCs.
---
Original Press Release:
PCMCIA Cards That Replace Missing Ports

Scientists and engineers need the mobility of portable and lap-top PCs for their work in the office, shop, and field. But many manufacturers have eliminated COM: ports from these PCs. Technical people are turning to CyberResearch, Inc. for CYB-Series PCMCIA cards that provide the RS-232 and RS-422/485 COM: ports needed for the day-to-day demands of their jobs.

CyberResearch(r) engineer Mike Mathis explains: "Many laptop manufacturers, including Dell, Toshiba, and IBM, are leaving COM: ports off their new PCs. This creates a problem for our technically oriented customers, who need the ports for day-to-
day communication with data-acquisition modules, motion-control systems, lab equipment, printers, and other machines."

With the addition of one and two-port CYB-Series PCMCIA cards, laptops that lack COM: ports can once again be linked to computer-controlled equipment. Concludes Mathis, "this is a simple add-on that gives laptops back the versatility for which they became popular in the first place!"
More from Architectural & Civil Engineering Products