PCIe Card can connect PC to any industrial Ethernet network.
Press Release Summary: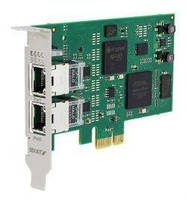 Based on Anybus and proprietary technologies, IXXAT INpact comes in standard and low-profile formats and lets users connect their PC-based slave application to EtherCAT, EtherNet/IP, Modbus TCP, PROFINET IRT/RT, Powerlink, and standard TCP/IP. Uniform driver concept allows user to switch between protocols without extensive programming as well as utilize future protocol extensions and developments. Two-port Ethernet interface (10/100 Mbit, RJ45s) supports protocol-specific switch functions.
---
Original Press Release:

Connect a PC to Any Industrial Ethernet Network with IXXAT Inpact



The new IXXAT INpact from HMS Industrial Networks combines the proven Anybus technology with years of IXXAT know-how in the PC interface card area. The result is a PCIe card with multi-protocol support for numerous industrial Ethernet standards and a uniform protocol and card-spanning application programming interface.Until now, it has been complicated to develop PC-based measurement, visualisation or service applications for several Industrial Ethernet standards since different interface cards and application programming interfaces had to be used for each protocol. The new IXXAT INpact is the solution to this.



Based on proven Anybus and IXXAT technologies, HMS offers a PCIe card in standard and low-profile formats which supports all leading industrial Ethernet standards. Users can easily connect their PC-based slave application to EtherCAT, EtherNet/IP, Modbus TCP, PROFINET IRT/RT, Powerlink and standard TCP/IP by using the IXXAT INpact. Through the uniform driver concept, the customer can switch between protocols quickly and without extensive programming and also profit from future protocol extensions and developments.



Support for multiple industrial Ethernet standards

The network solution inside IXXAT INpact is based on the Anybus CompactCom technology, today used within millions of automation devices globally. Used in combination with a flexible FPGA-based PCIe bus connection, the Anybus NP40 network processor has all functions required to process the communication between the Industrial Ethernet network and the PC-based customer application. With low latency times and a deterministic real-time behavior, it is perfect for demanding industrial applications. Furthermore, the 2-port Ethernet interface (10/100 Mbit, RJ45s), supports protocol specific switch functions - such as IRT for PROFINET, DLR for EtherNet/IP and Hub for Powerlink.



The Common Ethernet flash-update feature enables the user to download any industrial Ethernet protocol without switching cards in a quick and cost-efficient manner, which makes the IXXAT INpact a future-proof and adaptable interface for all types of applications.



A fast track to Ethernet connectivity

Thanks to the NP40 multi-protocol processor, the FPGA-based concept and the uniform driver interface, the IXXAT INpact is the ideal choice for numerous applications - ranging from HMI systems to process visualization and service tools up to measurement, analysis and test systems.



The IXXAT INpact comes with a comprehensive driver package for Windows, enabling simple and rapid development of customer-specific applications. Thanks to the uniform application programming interface, it is possible to switch between industrial Ethernet protocols without changing the customer software, which leads to increased flexibility and a reduction in terms of development costs.



A driver for Linux is in the roadmap and real-time operating systems such as RTX, Intime, VxWorks and QNX are supported upon request. Furthermore, the IXXAT INpact will soon be available for the PCI bus and for mini PCIe

http://tekinfo.link/rbe9f98850



HMS Industrial Networks

HMS Industrial Networks is the leading independent supplier of products for industrial communication including remote management. HMS develops and manufactures solutions for connecting automation devices and systems to industrialnetworks under the Netbiter, Anybus and IXXAT brands.



Development and manufacturing take place at the headquarters in Halmstad, Sweden and in Weingarten, Germany. Local sales and support are handled by branch offices in China, Denmark, France, Germany, India, Italy, Japan, UK, and USA. HMS employs over 350 people and reported sales of 57 million EUR in 2013. HMS is listed on the NASDAQ OMX in Stockholm.



HMS Industrial Networks Inc.

120 Bedford Center Road, Ste 102

Bedford, NH 03110

USA

- -

Phone: 1-603-471-0800

Fax: +1-603-471-0800 ext. 101

sales@ixxat.com



HMS Industrial Networks

Stationsgatan 37

30245 Halmstad

Sweden

www.anybus.com

Michela  NALIN

Phone: +46 351729 93

Fax: +46 351729 09

min@hms.se

More from Software