PCIe Board supports video acquisition and compression.
Press Release Summary: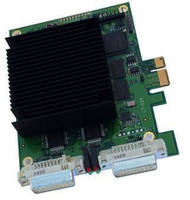 By transferring massive computational requirements of HD compression to specialized dedicated onboard processor, Model LT-124-PCIE enables 1080p60 fps to be compressed without using host CPU resources. All standard HDTV resolutions are supported. Also designed for low-latency applications, LT-124-PCIE outputs compressed video within milliseconds after acquisition. Compressed bit rates vary from 64 Kbps to 80 Mbps depending on resolution, frame rate, and quality desired.
---
Original Press Release:

Enciris Technologies Announces the LT-124-PCIE, a PCI Express Video Acquisition and Compression Board



Gaillac, France



Enciris Technologies. LT-124-PCIE is the latest powerful addition to our family of high performance real time true HD acquisition and compression boards. The LT-124-PCIE now allows high quality HD video acquisition and compression to be performed on even low-power PCs and embedded CPUs. The LT-124-PCIE alleviates your PC's CPU by transferring the massive computational requirements of HD compression to a specialised dedicated onboard processor.



At 1080p60 frames per second can be compressed without using any host CPU resources. All standard HDTV resolutions are supported. Also designed for low-latency applications, the LT-124-PCIE outputs compressed video within only a few milliseconds after acquisition. Multiple configurations are available including single channel H.264 compression, dual channel H.264 compression, single channel VC-1 compression, dual channel VC-1 compression, etc. Currently, 3D capture and mixing is possible with this board.



This board also has a reconfigurable processing core that can be configured for other compression formats as we make them available. Drivers for Windows XP/Vista/7/10 and Linux are included. Compressed bitrates can vary between 64Kbit/s and 80Mbit/s depending on resolution, frame rate and quality desired. Under Windows, DirectShow is fully supported. A cross-platform SDK is also available for Windows and Linux application development. Mac OS X support is available.



An optional DVI output module can be connected to the LT-124-PCIE via a Flexible Flat Cable (FFC) thus allowing for real time video loop-through. The LT-124-PCIE also captures and synchronizes stereo audio with the incoming video thus providing a complete multimedia acquisition and compression solution.



The LT-124-PCIE is ideally suited for OEMs and system integrators and measures 95mm x 115mm. 



Enciris Technologies, headquartered in Gaillac, France, is a leader in HD compression hardware and IP. For additional information and pricing please visit our website www.enciris.com or contact us directly at info@enciris.com.



Contact: Cornelia Weissfloch

Phone: 0033581180112

Email: cw@enciris.com





More from Software