PCIe-Based Mezzanine Modules support COTS applications.
Press Release Summary: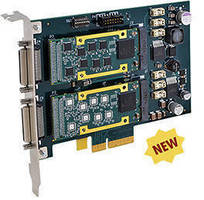 Used with AcroPack carrier cards for PCIe- or VPX-based systems, AcroPack General Purpose I/O Modules provide high-speed and high-resolution A/D and D/A, digital I/O, serial communication, and re-configurable FPGA functions. Products perform in commercial as well as extreme environments from -40 to 85°C for conduction-cooled applications. RoHS-compliant modules are suited for development labs, military and aerospace applications, defense industry, and automation applications.
---
Original Press Release:

Acromag's New State-of-the-art AcroPack PCIe-based Mezzanine Modules Deliver Maximum I/O Density When Used with AcroPack Carrier Cards for PCIe or VPX Based Systems.



Designed for COTS applications these general purpose I/O modules deliver high-speed and high resolution A/D and D/A, digital I/O, serial communication, and re-configurable FPGA functions.



Utilizing all solid-state components, these modules consume very little power and are designed to perform in commercial as well as extreme environments from -40 to 85°C for conduction-cooled applications.



The COTS product line of AcroPacks are RoHS compliant and are ideal for scientific development labs, military and aerospace applications, the defense industry, and automation applications.



APCe7020 - AcroPack carrier card

Features & Benefits

• Mix and match endless combinations in a single slot

• VPX and PCIe carriers

• Mix and match endless combinations in a single slot

• Linux®, Windows®, and VxWorks® support

• Sample software and diagnostics

• Solid Down connector I/O interface (no flimsy ribbon I/O cables)

• -40 to 85°C standard operating temperature

• A/D, D/A, serial communication, counter/timers and FPGA



Our sales engineers are here to help. Call us at 877-295-7088 to discuss your application needs.



Find out More

Acromag Offers Electronic Contract Manufacturing Services



For more than 50 years our customers have trusted us to provide the finest instrument solutions and related services that will meet or exceed their expectations with regards to quality and reliability.



Leveraging our strong background in surface mount technology and PCB assembly, we now offer contract manufacturing services geared towards the commercial, industrial, aerospace, defense, telematics and automotive markets.



Utilizing our extensive manufacturing experience we offer SMT and through-hole components, RoHS and non-RoHS compliant manufacturing, component packages down to 0402, automated optical inspection (AOI), conformal coat, potting, test services, and box builds / turn-key assemblies.



Call 844-878-2357 for a consultation.



About Acromag

Acromag is focused on developing embedded computing solutions that provide the best long term value in the industry. Acromag offers a complete line of embedded computing and I/O solutions including general purpose I/O boards, single-board computers, FPGA modules, embedded computers, COM Express products, mezzanine modules, wiring accessories, and software. Industries served include military, aerospace, manufacturing, transportation, utilities, and scientific research laboratories.



Made in the USA

Acromag Inc. • 30765 S. Wixom Rd., Wixom, MI 48393 USA • 877-295-7088 • www.acromag.com

Related