PCI Express Frame Grabber supports Camera Link cameras.
Press Release Summary: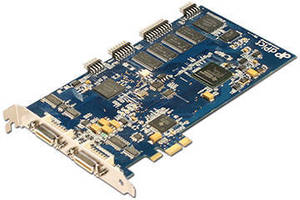 Equipped with TI DM642 video processor and 64 Mb on-board frame buffer memory, Nexeon CL Duo features 2 Camera Link channels for simultaneous transfer from 2 BASE Camera Link camera inputs or single MEDIUM Camera Link camera input. Video data can be simultaneously transferred without CPU intervention and can be formatted to several pixel formats. Frame grabber supports Power over Camera Link with SafePower circuitry, which automatically switches on power only while camera is connected.
---
Original Press Release:

dPict Imaging Introduces New Nexeon CL Duo



Dual Input PCIe Frame Grabber Supporting Camera Link Cameras

March 2, 2008, Indianapolis, IN - dPict Imaging is pleased to announce the Nexeon CL Duo, a full-featured, dual-channel PCI Express video frame grabber for high-resolution Camera Link video inputs. The Nexeon CL has two independent Camera Link channels for simultaneous transfer from two BASE Camera Link camera inputs or a single MEDIUM Camera Link camera input.

Nexeon CL Duo comes equipped with a Texas Instruments DM642 video processor and 64 MB of on-board frame buffer memory, allowing for reliable capture and transmission of video data. Video data can be simultaneously transferred to system or display memory without CPU intervention and can be formatted to several pixel formats. The DM642 processor along with an optimized FPGA pre-processor, provide the ultimate in flexibility for image-processing functions.

Power Over Camera Link with SafePower

Nexeon CL Duo supports Power over Camera Link (PoCL) with SafePower, allowing the Nexeon CL Duo to power and control a PoCL Camera with a single cable. SafePower circuitry detects whether a PoCL camera is connected and automatically switches on power only while the camera is connected, providing safe, switchable power and backwards compatibility with non-PoCL cameras and cables.

Automatic Camera Synchronization

Nexeon CL Duo provides true plug and play with automatic camera synchronization circuitry. Simply plug in the camera and the auto synchronization circuitry locks to the incoming video without the need for user setup or predefined configuration files. No need to order special hardware configurations for each camera or worry about adjusting setup when new Camera Link cameras are introduced with different resolutions. The Nexeon CL Duo will continue to provide accurate capture no matter what the input.

dVeloper Foundation SDK

Nexeon CL Duo is controlled through a comprehensive API that is common to all dPict Imaging products. Extensive documentation and sample code for Windows 2000, XP, Vista and .NET, as well as excellent technical support ensure successful application development.

Nexeon CL Duo Features

o PCI Express interface

o Integrated Texas Instruments DM642 processor

o Dual independent Camera Link channels

o Supports simultaneous transfer from two BASE or a single MEDIUM camera

o Automatic camera synchronization for automatic camera configuration

o Real-time Bayer camera processing

o Supports area or line-scan Camera Link cameras

o Switchable PoCL compatible power outputs with SafePower

o General Purpose I/O triggers

More information on the Nexeon CL Duo can be found at http://www.dpictimaging.com/Products/NexeonCLDuo.html.

About dPict Imaging, Inc.

dPict Imaging, Inc. is a leading designer and manufacturer of PC-based video acquisition products and development software for the machine vision, medical imaging, image analysis, and security applications. dPict Imaging, Inc. is a privately held company based in Indianapolis, IN, USA.

For more information, please contact:

Kevin Brown

Director of Product Marketing

dPict Imaging, Inc.

3815 River Crossing Parkway, Suite 100

Indianapolis, IN 46240

www.dpictimaging.com

More from Software