PCI Express DAQ Cards offer data transfers up to 250 MBps.
Press Release Summary: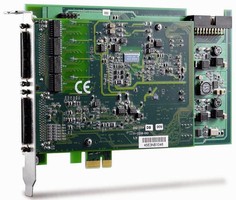 Multifunctional DAQe-2200 series samples up to 64 analog channels with input ranges up to 10 V and sampling speeds up to 3 MSPS while offering differential mode for 32 analog channels to optimize noise elimination. Offered in 12- and 16-bit models, products feature analog and digital triggering, 2-CH 12-bit analog outputs with waveform generation, 24-CH programmable DIO lines, and 2-CH, 16-bit timer/counter. Series also includes SSI bus and scatter-gather bus mastering.
---
Original Press Release:

New Series of 64-Channel High-Performance PCI Express DAQ Cards



Irvine, CA (May 24, 2007) - ADLINK Technology Inc. introduces the DAQe-2200 series of high-performance multi-functional data acquisition cards that take advantage of the high-bandwidth benefit of the x1 PCI Express® bus for large-scale data transfers of up to 250 MB/s. The DAQe-2200 series samples up to 64 analog channels with various input ranges (up to 10 V) and sampling speeds (up to 3 MS/s) while offering a differential mode for 32 analog channels to maximum noise elimination. This series features analog and digital triggering, 2-CH 12-bit analog outputs with waveform generation, 24-CH programmable digital I/O lines, and a 2-CH 16-bit general-purpose timer/counter-ideal for high-speed high-volume data acquisition in industrial and laboratory measurement/automation, actuator control, ultrasonic, and acoustic applications.

The DAQe-2200 series consists of the DAQe-2204, a 12-bit A/D resolution card with a 3MS/s simultaneous-sampling rate; the DAQe-2205, a 16-bit A/D resolution card with a 500 kS/s simultaneous-sampling rate; and the DAQe-2206, a 16-bit A/D resolution card with a 250 kS/s simultaneous-sampling rate.

The DAQe-2200 series also features simultaneous analog input and output at full speed, an SSI (system synchronization interface) bus to allow up to four cards to be synchronized, auto-calibration that adjusts the gain and offset to within specified parameters, and scatter-gather bus mastering. The scatter-gather bus-mastering feature allows the acquisition of a large amount of data at a high speed by transferring data directly to and from memory through the DMA controller up to the size limited by the system memory.

For additional information on the DAQe-2200 series of 64-channel PCI Express multi-function DAQ cards, visit http://www.adlinktech.com/TM.

Price and Availability

The DAQe-2200 series of cards are competitively priced starting at $895 and are available with discounts in volume.

About ADLINK Technology

ADLINK Technology is a leading manufacturer of high-performance, high-quality PC-based add-on cards for the test & measurement, automation and process control industries. ADLINK is also quickly emerging as a leader in industrial computing products with innovative passive backplane and CompactPCI platforms. ADLINK products are globally marketed through direct sales offices for OEM customers and an extensive network of worldwide sales channels.

The company has over 30% of its employees in research and development for the following product groups:

o Test & Measurement: NuDAQ Series of ISA/PCI/cPCI/USB data acquisition and communication cards, NuDAM Series of remote data acquisition modules and DAQBench Active X Controls for visual programming and control.

o Automation: Motion controllers in cPCI/PCI/PC104 form factors and wire-saving high-speed I/O technology for real-time control applications.

o Computer & Communication: CompactPCI and PXI computing platforms in both 3U and 6U form factors and PCI-X of PICMG single board computers in half and full-size versions

More from Sensors, Monitors & Transducers