PCI Express Adapter provides 2 configurable serial ports.
Press Release Summary: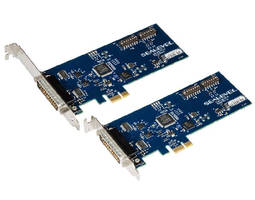 Featuring ultra-high-speed UART, flexible clock prescalar, and 256 byte Tx/Rx FIFOs, Model 7205ec supports asynchronous data rates exceeding 1 Mbps. Two serial ports are configurable for RS-232, RS-422, or RS-485 interface. Electrical interface, echo suppression, and line termination are set via on-board DIP switches. With software-selectable Slew Rate Limiting feature, Windows driver minimizes EMI when serial ports operate at baud rates below 250 Kbps.
---
Original Press Release:

Sealevel's New Dual-Port Multi-Interface PCI Express Serial Adapter Offers Highest Data Rates



Product Features

• Two serial ports configurable for RS-232, RS-422 or RS-485 interface

• Electrical interface selection via on-board DIP switch with Windows device driver override

• Software selectable 250K Slew Rate Limiting to minimize electromagnetic interference

• Ultra high-speed UART with 256-byte Tx and Rx FIFOs

• Supports asynchronous data rates exceeding 1 Mbps

• Bus-derived 125 MHz BRG and clock prescalar support wide range of baud rates

• Automatic RS-485 enable/disable for Windows applications

• PCI Express X1 compliant

• Compatible with low profile PCI Express slots (standard profile slots with optional bracket)

• All modem control signals implemented in RS-232 mode

• Includes 36" cable that terminates to two DB9M connectors



LIBERTY, SC, USA – Sealevel's best-selling dual-port multi-interface PCI Express serial adapter has been enhanced with the release of the 7205ec. This new board features an ultra high-speed UART, flexible clock prescalar, and larger 256-byte Tx/Rx FIFOs that allow the adapter to support the widest range of standard and non-standard baud rates exceeding 1 Mbps. These improvements make the 7205ec ideal for data intensive applications that require reliable, ultra-fast throughput rates.



The electrical interface, echo suppression and line termination continue to be set via convenient on-board DIP switches. Optionally, these settings can now be overridden by the Windows device driver. Another addition to the Windows driver is the software-selectable Slew Rate Limiting feature that minimizes electromagnetic interference when the serial ports operate at baud rates below 250K bps. For rapid troubleshooting, on-board LEDs have been added to display the board heartbeat, confirm electrical interface selection and line termination state.



The 7205ec is a "form, fit and function replacement" for the 7205e; existing customers of the 7205e simply need to update to the latest 7205ec software driver to ensure their application will continue to operate as expected. The 7205ec is a PCI Express X1 board compatible with any low profile PCI Express slot. Low volume price is $259 and the board is available from stock.



ABOUT SEALEVEL SYSTEMS, INC.

Sealevel Systems, founded in 1986, provides industrial computing solutions in addition to a variety of communications and I/O products including PCI Express and PCI Bus cards, Ethernet serial servers, and USB serial adapters. The product line includes multi-port RS-232, RS-422/485, RS-232/422/485 multi-interface high-speed sync/async, and digital/relay I/O. For more information, visit www.sealevel.com or call 864-843-4343.



Reader contact information:

Sealevel Systems, Inc.

Liberty, South Carolina USA

+1-864-843-4343

sales@sealevel.com



More from Electronic Components & Devices