PCI Card provides 64 channels of digital I/O.
Press Release Summary: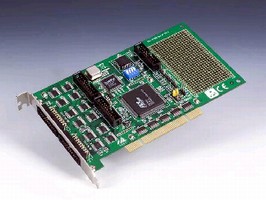 Universal PC-bus card, Model PCI-1735U, features 32 TTL-level digital input channels, 32 TTL-level digital output channels, and three 16-bit programmable counter/timer channels. Digital I/O channels use driver/buffer circuits to provide output driving capacity. Card offers low-input loading, user-configurable clock source, and full selection of wiring and signal interface boards.
---
Original Press Release:

Advantech Launches New 64 Channel Digital I/O and Counter PCI Card



The PCI-1735U is a 64 channel digital I/O and counter PCI card starting at $220.

(Cincinnati, Ohio - 09/15/2006) - The eAutomation Group of Advantech introduces the PCI-1735U digital I/O and counter card. The PCI-1735U is a universal PC-bus card with 32 TTL-level digital input channels, 32 TTL-level digital output channels, and three programmable counter/timer channels.

The digital I/O channels use robust driver/buffer circuits to provide output driving capacity. These circuits require lower input current then regular TTL circuits. The card's 8254 programmable counter/timer provides three flexible 16-bit counter/timer channels. The 1735U is compatible with Advantech's popular ISA-bus PCL-720+ in functionality, connectors, and device drivers. This allows existing PCL-720+ users to upgrade to the PCI-1735U board effortlessly.

Other features include: high-output driving capacity, low-input loading, user configurable clock source, and a full selection of wiring and signal interface boards.

The PCI-1735U starts at $220 and is available for purchase directly from Advantech at 1-800-205-7940 or visit Advantech's eAutomation Group website at eautomationpro.com/us for more information on our products.

Advantech Corporation, eAutomation Group - Founded in 1983, Advantech is a global leading ePlatform service provider integrating web-based technology, computing platforms and customization services that empower the connected eWorld. Advantech cooperates closely with system integrators to enable them in providing complete solutions for a wide array of applications in various industries. Advantech delivers more than a thousand products and solutions under 3 main categories: Embedded & Applied Computing, Industrial and Network Computing, and eAutomation. With the combined talent of more than 2,000 people, Advantech operates an extensive support, sales and marketing network in 16 countries and 28 major cities to deliver fast time-to-market services to our worldwide customers. US operations for the eAutomation Group, 1320 Kemper Meadow Drive, Suite 500, Cincinnati, OH 45240. Website for Advantech customers in North America: eautomationpro.com/us Email: info@advantech.com

Chuck Harrell
Advantech Corporation, eAutomation Group
(513) 742-8895 x333
website: eautomationpro.com/us

More from Software