PCI/104-Express Boards are available for CAN and LIN interfaces.
Press Release Summary: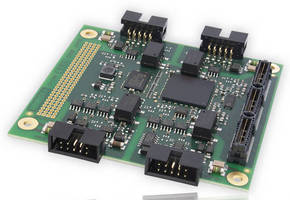 PCI/104-Express boards, based on modular architectural concept, are designed for compact industrial computers and mobile systems. In addition to passive version, active version with 32-bit MCU is offered. Latter suits applications with high demands for data preprocessing. Depending on version, boards are available with up to 4 CAN interfaces as well as optional switchable high-/low-speed CAN interface and LIN interface. All interfaces are galvanic isolated by default.
---
Original Press Release:

PCI/104-Express Board Series for CAN (High/Low Speed) and LIN



Weingarten - IXXAT completes its PCI-Express series, consisting of serveral PCI-Express boards and a PCI-Express-Mini card, with two new variants based on the PCI/104-Express standard. The new PCI/104-Express boards are designed specifically for use in compact industrial computers and mobile systems.

Like the other boards, the new PCI/104-Express variants are based on a highly modular architectural concept. In addition to a passive version for cost-sensitive applications, an active version with a powerful 32 bit microcontroller is offered. The active version is specially designed for use in applications with high demands for data preprocessing.

Depending on the version, the PCI/104-Express boards are available with up to four CAN interfaces as well as with an optional switchable high-/low speed CAN interface and LIN interface. All interfaces are galvanic isolated by default.

In accordance with the requirements for industrial and mobile applications, the boards have an extended temperature range from -40° C to +85° C.

To connect the boards with the application running on the PC, a Windows driver package is included in the scope of delivery (VCI - Virtual CAN Interface). The Windows driver supports all interfaces on the board and allows the use of both customer specific programs as well as the analysis and configuration tools from IXXAT. Furthermore, the VCI driver supports all CAN interface boards offered by IXXAT, enabling the user to switch between the different board variants without adaptation of its application. In addition, drivers for the real-time Windows extension RTX, InTime and Linux are available. The integration of the boards into networks using higher layer protocols can be performed by using the CANopen Master API, the SAE J1939 API or further protocol software packages offered by IXXAT.

The new PCI-Express board series is flexible and versatile and it can be used both in industrial as well as in automotive applications. All boards are produced according to the high IXXAT quality standards with long-term availability and are offered at attractive prices.

For further information on the PCI-Express board series please visit www.ixxat.com

Company Background

IXXAT Automation is a leading provider of data communication products and services for the automation and automotive industries. The company focuses on industrial communication systems based on CAN (CANopen, DeviceNet), Ethernet (POWERLINK, EtherNet/IP, PROFINET, EtherCAT, Modbus TCP), and TCP/IP with the associated transport protocols. Solutions for the automotive industry are mainly based on CAN (diagnosis protocols, SAE J1939), FlexRay, and LIN. IXXAT is experienced in the development of safety-oriented hardware and software in compliance with IEC 61508. In addition to designing system solutions and developing hardware and software, IXXAT supports the implementation and application of CAN and TCP/IP communication systems and offers training and consultation. The extensive product portfolio includes interface cards, test systems, analytical tools, and protocol software. Currently, the company employs a staff of 80, mostly electronics engineers and computer scientists. IXXAT has an ISO 9001-certified quality management system.

Contact:
IXXAT Automation GmbH
Frank Pastors
Leibnizstr. 15
88250 Weingarten
Germany
Tel.: +49 . 751 . 561 46 - 0
Fax: +49 . 751 . 561 46 - 29
E-mail: info@ixxat.de
WWW: www.ixxat.com

More from Software