PCD Rotary Tools suit various machining applications.
Press Release Summary: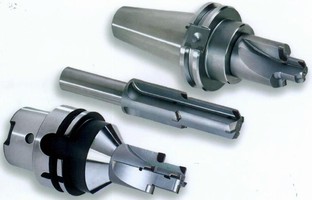 Usable as replacements for solid carbide or carbide-tipped tools, round PCD (polycrystalline diamond) tools come in all sizes up to 4 in. dia and can be designed with integral shank special connectors based on end-user requirements. They can be used with variety of materials, including nonferrous metals, carbon, ceramics, fiberglass composites, graphite, and plastics, in high-volume reaming, boring, and drilling applications.
---
Original Press Release:

Kitzel Introduces New Line of PCD Rotary Tools



Cleveland, OH: E. C. Kitzel, Inc., a leader in diamond-tipped tool technology since 1927, has introduced a new line of PCD round or rotary tools.

The new line of Kitzel tools replace solid carbide or carbide-tipped tools and offer longer tool life, better size control and more economical reaming, boring and drilling in high volume machining applications.

The Kitzel rotary tools are available in all sizes up to 4" in diameter and can be designed with integral shank special connectors based on customer needs. The tools are suitable for use with aluminum, silicon-aluminum alloys, brass alloys, bronze alloys, copper and copper alloys, lead alloys, manganese alloys and presintered tungsten carbide. In addition to nonferrous metal work pieces, the tools can be used with carbon, ceramics, fiberglass composites, graphite and plastics.

According to Thomas Schumann, general manager of Kitzel, "Since we have been working with diamond-tipped tooling for almost eighty years, we offer very high quality round tools at competitive costs. In addition, we offer very fast delivery on custom tools, often in 5 weeks."

In addition to rotary tools, Kitzel manufactures inserts, milling cartridges, marking indenters, and a variety of tools for turning, boring, threading and grooving.

For more information, contact E. C. Kitzel, Inc., 4775 Manufacturing Avenue, Cleveland, Ohio 44135. Tel: 800.227.6850 (outside Ohio), 216.267.6850. Fax: 216.267.6714. E-mail: tschumann@kitzel.com. Or, visit our website at: www.kitzel.com

More from Machinery & Machining Tools