PCBN Insert Grades utilize bimodal substrate.
Press Release Summary: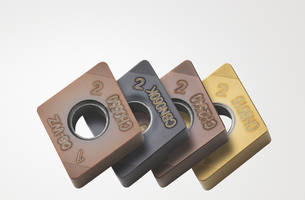 Designed for turning hardened steels, PCBN Insert Grades are available in CH0550, CBN060K, CH2540 and CH3515 models. Integrated with advanced coatings, unit comes in ISO insert geometries in metric and imperial specifications. Product comes with optional feed wiper geometry.
---
Original Press Release:
Seco Expands Solutions for Hard Turning with New PCBN Grades
Seco Tools has expanded its family of PCBN insert grades to cover the entire spectrum of hard part turning applications. Using a new bimodal substrate and nanolaminate coating process, these new inserts extend tool life and increase productivity in a broader range of applications.
Seco's PCBN grade chain for materials ranging from ISO H05 to H35 consists of CH0550, CBN060K, CH2540 and CH3515 and is designed specifically for turning hardened steels. They incorporate advanced coatings and a bimodal substrate with coarser grain materials, along with optimized cutting edge profiles for long and predictable machining performance.
CH0550 provides prolonged wear resistance in high-speed continuous cut H05 operations. CBN060K excels in continuous to slight interrupted cuts in H15 applications. CH2540 offers unparalleled performance in continuous and moderate interrupted cuts in the H25 area. CH3515 exhibits extreme toughness handling heavy interruptions in H35 operations.
Each of Seco's PCBN grades is available in common ISO insert geometries in both metric and imperial specifications. High feed wiper geometry options are available to further enhance performance.
For more information on Seco's new hard part turning grades, please contact a local Seco representative or visit: https://www.secotools.com/#article/66778.
About Seco Tools, LLC
Seco Tools, LLC is a leading provider of metalcutting solutions for milling, turning, holemaking and toolholding. The company prides itself on building close relationships with customers to effectively understand and address their needs.
Contact:
Bob Heery
Seco Tools, LLC
2805 Bellingham Drive
Troy, Michigan
Phone: 248.528.5451
Email: bob.heery@secotools.com
Url: www.secotools.com
Related