PCB Magazine Rack Stop Clip accelerates identification.
Press Release Summary: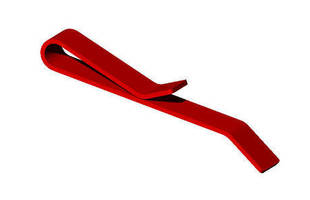 Installed on PCB magazine rack, single- and double-lane ezCLIP lets electronics manufacturers who manually load/unload racks distinguish required spacing between boards and prevent damage on boards with taller components. Design fosters accelerated identification of card guides that should be skipped as they prevent boards from being inserted. This hastens setup times for production runs as well as manual loading/unloading of boards during assembly, reflow, rework, and inspection.
---
Original Press Release:

Count On Tools Introduces ezCLIP Universal Stop Clip for PCB Magazine Racks



GAINESVILLE, GA – Count On Tools Inc. (COT), a leading provider of precision components and SMT spare parts, introduces the new ezCLIP universal stop clip for PCB magazine racks. The ezCLIP system was created to allow electronics manufacturers who manually load/unload PCB magazine racks a simple way to distinguish required spacing between boards and to prevent damage on boards with taller components.



At this time, companies who operate without the ezCLIP system must manually check each board when loading the PCB magazine rack to ensure that they are spaced correctly. Failure to confirm correct spacing can lead to damaged components that are critical to the board's operation. With the ezCLIP installed on the PCB magazine rack, companies can quickly identify which card guides should be skipped as they prevent boards from being inserted. This allows for faster set-up times for the production run and swift manual loading and unloading of the boards during assembly, reflow, rework, inspection and more.



The ezCLIP system offers the lowest cost option for safely marking board spacing on PCB magazine racks for quick loading with the proper component height tolerances. Single lane ezCLIPS are available in packs of 50 for $100.00. This package would allow users to disable 25 lanes of the PCB magazine rack. Double lane ezCLIPS also are available in packs of 50 for $150.00. The double lane clips allow users to disable 50 lanes of the PCB magazine rack.



The ezCLIP is manufactured from high quality spring steel and coated for long life use. Installation is simple; just push the clip over the PCB magazine rack slot that needs to be skipped. The bright finish is a visual cue that the cardguide slot is not available and is easily distinguishable across a variety of electronics manufacturing operations.



For more information about Count On Tools' new ezCLIP, visit www.cotinc.com.



About Count On Tools Inc.

Count On Tools Inc., a precision component manufacturer specializing in all aspects of the machining industry, has been setting new performance standards in the SMT pick-and-place nozzle market since 1991. As the ORIGINAL source for high-quality, low-cost vacuum placement nozzles and associated consumables, they have pioneered with world-class development and process engineers that combine to ensure that innovation and competitiveness is applied to all of its extensive product range. The company also stands behind its products 100% with a full warranty. Count On Tools' products are in use at many of the world's leading electronics manufacturing companies. Proven engineering expertise, coupled with the latest in design and manufacturing technology, has allowed the company to simplify the complexities of the industry and deliver a solution to its customers.



The company also maintains and supports a strong position in the hand tool industry, offering the highest quality hand tools in the world with PB Swiss Tools. These tools compliment any and all high-tech environments requiring optimum performance from both their equipment and technicians.



Contact:

Curt Couch, President

Count On Tools Inc.

2481 Hilton Dr., Suite 3

Gainesville, GA 30501

770-538-0411

E-mail: ccouch@cotinc.com

Web site: www.cotinc.com 

More from Electrical Equipment & Systems