PCB Enclosures feature IP66 rating.
Press Release Summary: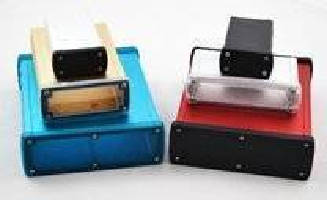 Made of anodized aluminum extrusion with grooves for heat dissipation, EXN Series is available with polycarbonate plastic or powder-coated die-cast aluminum endcap covers that can be removed to slide in printed circuit board. Exterior has built-in 0.5 mm recessed area on which product label can be affixed and/or printed on directly. Available in 17 sizes ranging from 2.7 x 1.39 x 1.93 in. to 6.99 x 2.41 x 8.23 in., enclosures include continuous gaskets that seal against weather and water.
---
Original Press Release:

Bud Industries Introduces EXN Series PCB Enclosure with IP66 Rating



Extruded aluminum enclosure transfers heat with style



CLEVELAND, Ohio— Bud Industries, a leading manufacturer of electronic enclosures, has introduced the EXN Series enclosure, an attractive IP-66 rated enclosure made of anodized aluminum extrusion  with  plastic or aluminum endcap covers. Removal of the cover allows a user-supplied printed circuit board (PCB) to slide in. The extruded aluminum construction has grooves that enhance heat dissipation.



The enclosures are ideal for use as instrument cases and stomp boxes, and for housing electronic power supplies, remote controls and a variety of factory floor and outdoor applications. Included continuous gaskets seal against weather and water, allowing the enclosures to be used outdoors or indoors in washdown and dusty environments.



Seventeen sizes are available, ranging from 2.7 x 1.39 x 1.93 inches to 6.99 x 2.41 x 8.23 inches. The anodized aluminum bodies come in a choice of five standard colors: Gold, Blue, Silver, Black, and Red. Covers are available in either colored polycarbonate plastic (UL94-V0) or powder-coated die-cast aluminum (ADC-12) in colors designed to match the base.



The exterior design of the enclosures includes a built-in 0.5mm recessed area on which a product label can be affixed and/or printed on directly.



Both covers and bodies are easily modified with cutouts. The enclosures are covered by Bud's industry-leading program that provides custom modifications within five to six days at no extra cost. That's up to 2–3 times faster service than most other enclosure suppliers provide.



PCBs and mounting brackets are available as accessories.



Price and Availability

The EXN Series enclosures are available from stock at prices as low as $8.10. For price, availability, and downloadable drawings, visit the Bud website http://www.budind.com/view/Small+Metal+Electronics+Enclosures/EXN+%E2%80%93+EXTRUDED+ALUMINUM+IP66+PCB+ENCLOSURES.



To request a free Bud electronics enclosures catalog, visit http://www.budind.com/request_catalog.php or contact the Sales Department at:



4605 E. 335th Street

Willoughby, Ohio 44094

Phone: 440-946-3200

Fax: 440-951-4015

Web: www.budind.com

Email: saleseast@budind.com



About Bud Industries, Inc.

Founded in 1928, Bud Industries, Inc. is the nation's leading manufacturer of enclosures and related products for the electronics and data industries. The Bud line includes products ranging from small hand-held boxes to large cabinet racks, products made from plastic as well as metal, and standard electronic products as well as those that meet NEMA and seismic requirements. Bud's standard product line of more than 2,500 products is heavily stocked by distribution channels as well as by the company itself, allowing same-day shipment of more than 90 percent of the enclosures sold. Bud can make simple modifications to most enclosures to your specs in five days. Custom products are also available, as is complete design support.



Contact Information:

Blair Haas

Bud Industries

Tel: 440-946-3200

Email: saleseast@budind.com

www.budind.com 



Bud Social Links:

Bud Blog http://www.budind.com/blog/ 

Bud on Twitter https://twitter.com/Budbox

Bud on YouTube https://www.youtube.com/user/budind

Bud on LinkedIn https://www.linkedin.com/company/bud-industries-inc

Related