PCB Design Tool automates generation of PCB footprint.
Press Release Summary: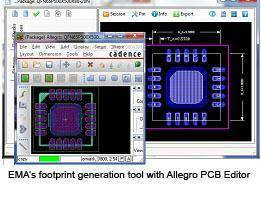 Used to automate generation of complex PCB footprint models, FootprintGen fully supports user-defined and IPC-7351 standard settings across diverse component families. Rules, settings, and component dimensioning forms drive accurate parts building via consistent process. Multiple user settings are supported, with configurable line and text widths for various layers. Also, PCB footprint models can be verified and correlated to schematic symbol models to identify errors/discrepancies.
---
Original Press Release:

EMA Automates PCB Footprint Generation with New App for Allegro PCB Design



Rochester, NY - EMA Design Automation(TM) (www.ema-eda.com), a full-service provider of mechanical and electrical CAD tools, today announced the release of FootprintGen - an app which accurately automates the generation of complex PCB footprint (land pattern) models in a fraction of the time compared to typical manual methods. Both user-defined and the IPC-7351 standard settings are fully supported across a broad range of component families.

"Footprint creation is a constant challenge for PCB designers," said Manny Marcano, president and CEO of EMA. "Today's complex components have upwards of 2,000 pins or more, many with unique pad stack configurations, specific corporate drafting specifications, and manufacturing requirements. FootprintGen simplifies the task and saves designers critical project time."

The process, driven by rules, settings, and component dimensioning forms, accurately builds parts in a consistent and repetitive process. An extensive set of component families are supported including BGA, CHIP, CHIPARRAY, DIP, LCC, LGA, PLCC, QFN, QFP, SOJ, and SOP with additional families added on a continuing basis. FootprintGen supports multiple user settings with user configurable line and text widths for solder mask, assembly, pad, and other layers. Designers can select from D-shape, oblong, or rectangular pad shapes, or they can customize a specific pad shape with rounding or chamfering specifications. Pad stacks are user configurable and can be assigned to unique locations including corner pads or specific row/column positions.

FootprintGen integrates seamlessly with Cadence® OrCAD® and Allegro® PCB design solutions, complementing existing apps including SymbolGen. Using FootprintGen, PCB footprint models can be verified and correlated to the schematic symbol models, immediately identifying any errors or discrepancies.

FootprintGen is available for $999 from the OrCAD Capture Marketplace, where OrCAD users worldwide can download free and paid apps to add functionality and customize their OrCAD products. For more information about FootprintGen, the other available apps, and how to get them into your OrCAD design environment, visit www.ema-eda.com/orcadapps or call 800-813-7494.

About EMA Design Automation, Inc.
EMA Design Automation is a leader in product development solutions offering a complete range of electrical and mechanical CAD tools, product lifecycle management systems, services, training, and technical support. EMA is a Cadence® Channel Partner serving all of North America, an Autodesk Authorized Value Added Reseller, and is an Authorized North American Distributor of Aldec® Active-HDL(TM). EMA manufactures the Component Information Portal(TM) (CIP), TimingDesigner®, and CircuitSpace, and all are distributed through a worldwide network of value added resellers. EMA is a privately held corporation headquartered in Rochester, New York. Visit EMA at www.ema-eda.com for more information.

EMA Design Automation and Component Information Portal are trademarks,
and TimingDesigner and CircuitSpace are registered trademarks of EMA Design Automation, Inc.

Cadence, Allegro, and OrCAD are registered trademarks of Cadence Design Systems, Inc.
Aldec and Active-HDL are registered trademarks of Aldec, Inc.

All other trademarks in this release are the property of their respective owners.

More from Computer Hardware & Peripherals