PCB Depanelizer can singulate long circuit boards.
Press Release Summary: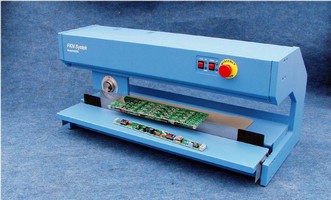 Capable of singulating skip routed PCB panels up to 24 in. long, Model K4000 motorized linear blade depanelizer features height adjustable front and back support, take up table, and right and left blade guards that ensure operator safety. It is offered with optional light beam safety curtain across front of blades and conveyor belt to bring singulated PCBs to side for easy removal. IR sensor on end of conveyor stops belt for PCBs with components on them.
---
Original Press Release:

Depaneling Long Circuit Boards Is Now Easier



June 15, 2008

K4000 Motorized Linear Blade Depanelizer

Singulating skip routed PCB panels up to 24" long is made simple and easy with FKN Systek's K4000 PCB depanelizer. Simply place the bottom scoreline of the PCB onto the linear blade and step on a guarded foot switch to bring the circular blade across the top scoreline for clean separation of the PCB panels. Right and left blade guards assure operator safety. The front and back support and take up table are height adjustable.

All K4000 models are available with optional light beam safety curtain across the front of the blades for additional operator safety, and a conveyor belt to bring singulated PCBs to the side for easy removal. An infrared sensor on the end of the conveyor will stop the belt for PCBs with components on them. Scrap pieces will pass underneath the sensor beam into a discard bin. Tooling to help the operator align panels is available upon request. Blades are made of long lasting tool steel and can be re-sharpened several times. FKN Systek depanelizers are made in the USA.

For more information look up our web page, call or E Mail.

Contact Name: Evan Sun

Title: Promotion Manager

E-mail: fkn@fknsystek.com

FKN Systek

Tel. 508 935 2282

Fax: 508 935 2286

E Mail: FKN@FKNSYSTEK.com

www.fknsystek.com

More from Software