PCAP Display utilizes simple-smart adapter.
Press Release Summary: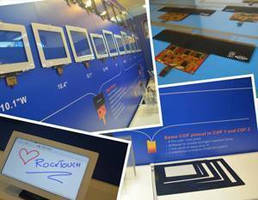 To facilitate integration, 15 in. PCAP Display is available with smart adapter that enables clients to connect chip on flat to standard industrial motherboard using RockTouch cable, which comes in 40 cm and 1.83 m lengths with USB and serial connector interface. Cable has ferrite core to guarantee quality of use by decreasing noise. Featuring overall area of 326 x 259 mm and active area of 307.53 x 231.42 mm, display includes 370.1 x 294.1 mm cover lenses with thickness of 3 or 6 mm.
---
Original Press Release:

15" RockTouch with PCAP



Microtips Technology is excited to announce our new 15" PCAP display is our mission is to develop secure and easy integration for our clients; we have developed a simple-smart adapter for our clients to connect the chip on flat to a standard industrial motherboard using a RockTouch cable.  The Rocktouch cable comes in USB and serial connector interface.  The cable is in two lengths, short length 40cm and long length which is 1.83 meters long.  The cable has a ferrite core attached to guarantee the quality of use by decreasing noise.  We also manufacture cover lenses.  With have the thickness of 3mm or 6mm (cover lenses).  We also have offered our clients the option to choose between black and white for each cover lens.



As mention above our team has developed two chips on Flat that are compatible with 15" size of films and cover lens.  The Flat tail has long enough area to bend behind any LCD.  Additionally on the ITO film glue is apply for better adhesion.   There are holes for easy fix and additional grounding which will help with EMI issues.  There are also protection tape apply on the IC, and black film covering Touch panel; these factors help protect from ESD and EMI issues.



Link: http://www.microtipsusa.com



Quick Features:

Part#  RTPC-150-A

DOT Matrix 15 inches

Overall Area 326mm x 259mm

Active Area 307.53 x 231.42mm

Interface USB/I2C/UART

Cover Lenses(dimensions) 370.1x294.1mm

Display Color Available color –black and white

Temperature ST: -40~80°C, OT: -20~70°C







More from Mechanical Power Transmission