PC Padlock secures data and components.
Press Release Summary: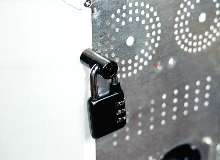 Lid Lock Padlock has no adhesives or cables and causes no damage to equipment. It can be installed in under 1 min and includes resettable combination padlock. There are up to 1000 different 3-digit combinations available with padlock. An organization can code all padlocks differently, code them all alike, or code by department.
---
Original Press Release:
New, Low Priced Lid Lock Developed

September 01, 2002 - Innovative Security Products announces the development of the Lid Lock Padlock, The lowest cost way to secure your data and components inside your PC. The street price for this locking kit is $9.95

This lock has no adhesives or cables and causes no damage to the equipment. The device includes a proprietary component that prevents break-ins. It can be installed in under a minute and includes a re-settable combination padlock. There are up to 1000 different 3 digit combinations available with the padlock. An organization can code all the padlocks differently (up to 1000), code them all alike, or code by department.

The economy and the increase in layoffs, has increased the number of component thefts in most organizations. This problem usually involves personnel within the company, sometimes working with outsiders. Most of these components are easy to carry away in a purse, briefcase, or coat pocket. According to the American Society of Industrial Security in Arlington Virginia, more than half of all high-valued component thefts are employee related. "And disposing of [hot] hardware has never been easier. Simply look in the back of most PC magazines. There you can find an abundance of ads from companies offering money for used memory and CPU's, no questions asked. Today's street price for a 256 MB DRAM chip is $50.00, hit 20 machines and you have a nice $1,000.00 bonus. A shoe box full of Pentium processors is worth $10,000.00" Cameron added.

"Most thefts occur because, despite the best intentions, security procedures are inadequate or dysfunctional. You must implement loss prevention measures that can help to protect your companies property, keep employees productive and preserve the companies bottom line." Cameron added.

Additional information about hardware and software security products, security news, white papers can be found on ISP's homepage at www.wesecure.com

Innovative Security Products

e-mail sales@wesecure.com
More from Test & Measurement