PC Oscilloscope Adapter needs no power supply.
Press Release Summary: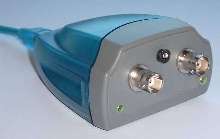 Dual channel, 12-bit Model DS2200C samples at rates to 200 ksample/sec. Digital sampling oscilloscope adapter connects to USB port of any computer and fits in laptop carrying cases along with 2 optional probes. EasyScope software, provided with DS2200C, provides front panel appearance for changing of settings. Software also saves screen settings when quitting program. FFT button shows frequency information instantly. Product, in case, measures 3 x 2 x 1.5 in.
---
Original Press Release:

USB Dual-Channel PC Scope Needs No Power Supply


Fairport, NY: DS2200C is a new 2-channel 200ksample/sec 12-bit Digital Sampling Oscilloscope Adapter for PCs. DS2200C connects to the fast USB port of any computer and is ideal for educational, hobby and servicing use in micro-controller or audio applications. Powered only by the PC's USB port, DS2200C is extremely small and lightweight - with its two optional probes it will easily fit in a laptop's carrying case.

The EasyScope software provided with DS2200C gives a very familiar digital scope "front panel" appearance for easy changing of settings. The instantly-usable software not only allows you to print or save screen captures, save/load settings, All EasyScope screen settings are saved when quitting the program, so when you restart, clicking the Run button resumes exactly where you left it set. The cursors and screen-displayed numerical measurements allow you to quickly and accurately measure waveforms. There's even an FFT button to show frequency information instantly. XY "Lissajous figures" can also be displayed for phase measurements. Each channel has a LED indicator and there's also a socket for a 1.25V 1kHz calibration signal.

The hardware is small and light - the 3" x 2" x 1.5" styled case weighs less than 8 oz. - so you can carry DS2200C anywhere you need it - work, school, field service, etc.

Available immediately, DS2200C USB Digital Scope Adapter costs $189.00 from Saelig Co. Inc. NY 585-425-3753; 585-425-3835 fax; saelig@aol.com; www.saelig.com).

Further details: Alan Lowne (saelig@aol.com) 585 425-3753; fax -3835

Saelig Company Inc, 1 Cabernet Circle, Fairport NY 14450

Related