PC/104-Plus(TM) SBC suits deeply embedded headless systems.
Press Release Summary: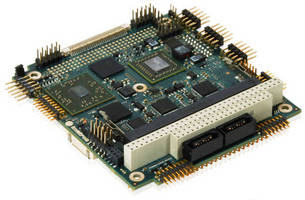 As dual-chip solution based on single-core 1.0 GHz AMD T24L CPU and Fusion Controller Hub A55E, MICROSPACE® MSM-eO-N serves markets where control computers and data collection and distribution applications are used and no display is required. Up to 4 GB DDR3 RAM and data processing density, optimized with processor TDP of 5.0 W, compliment resources capable of accelerating even memory-intensive applications. Several connectivity, expansion, and I/O interfaces are standard.
---
Original Press Release:

Kontron PC/104-Plus(TM) Single Board Computer with AMD Embedded G-Series for Deeply Embedded Headless Systems



Kontron MICROSPACE® MSM-eO-N minimizes energy consumption and cost of fanless designs that require no display support

Eching, Germany - Kontron announced today the availability of a headless version of the Kontron PC/104-Plus(TM) Single Board Computer (SBC) MICROSPACE® MSM-eO-N based on the AMD Embedded G-Series processor. The Kontron MICROSPACE® MSM-eO-N is a cost-saving and low-power solution for deeply embedded systems that require no display support and graphic requirements. With long-term availability, this space-saving, two-chip solution based on the AMD Embedded processor T24L and Fusion Controller Hub A55E is ideal for fanless Small Form Factor (SFF) designs that run purely as number crunchers. OEMs will benefit from reduced energy consumption and a lower Bill of Material (BoM) for their SFF designs.

The Kontron MICROSPACE® MSM-eO-N offers high data processing density with a processor TDP of only 5.0 watts. Paired with low energy consumption, the Kontron MICROSPACE® MSM-eO-N allows for a significant reduction in the design effort for fanless, maintenance-free designs. Designs such as this are ideal for markets where control computers and data collection and distribution applications are used, including machine-to-machine and motion control applications in industrial automation, distributed data collection systems (smart grids) in energy and embedded assistant systems in transportation.

"Today, highly integrated x86 processors combine the CPU and the graphics on one chip. This results in processor graphics that are even more integrated and with that even more efficient. For customers, however, who have no graphics requirements, this feature is an unnecessary addition, which is reflected in the cost, in the thermal design and in the overall energy consumption, if the board is equipped with this feature set," Pascal Péquignot, Managing Director at Kontron, comments. "With the Kontron MICROSPACE® MSM-eO-N we are offering a small form factor SBC that has been optimized to meet the needs of deeply embedded systems and which combines the most up-to-date x86 technology with extremely low energy consumption in a headless design."

The feature set in detail

The Kontron PC/104-Plus(TM) SBC MICROSPACE® MSM-eO-N integrates the single-core AMD T24L processor with 1.0 GHz, which offers high data processing performance with only 5.0 watt TDP. With up to 4 GByte DDR3 RAM the Kontron MICROSPACE® MSM-eO-N provides enough resources to accelerate even the most memory-intensive applications. Storage media can be connected via two SATA interfaces for which RAID 0, 1 support is available. For extremely space-saving and robust applications a socket for micro SD cards is also available. A Gigabit Ethernet interface allows for direct integration into network structures without additional extension cards. Four USB 2.0 and four serial interfaces (RS232/TTL) are available for connecting numerous application-specific peripherals. To facilitate further application-specific I/Os, the Single Board Computer has eight configurable GPIOs. Via a 32-bit PCI Bus connector and a 16-bit ISA Bus connector a large range of extension cards, which Kontron has available in its portfolio, can be connected.

The Kontron PC/104-Plus(TM) SBC MICROSPACE® MSM-eO-N is available now and offers Windows, Linux and VxWorks software support, with others available on request.

Further information on the Kontron PC/104-Plus(TM) SBC MICROSPACE® MSM-eO-N is available at: http://www.kontron.com/products/boards+and+mezzanines/pc104+sbc+and+peripherals/microspace+pc104+cpus/msmeon.html

For further information on Kontron PC/104 products, please visit: http://www.kontron.com/pc104

About Kontron
Kontron is a global leader in embedded computing technology. With more than 30% of its employees in Research and Development, Kontron creates many of the standards that drive the world's embedded computing platforms. Kontron's product longevity, local engineering and support, and value-added services, helps create a sustainable and viable embedded solution for OEMs and system integrators. Kontron works closely with its customers on their embedded application-ready platforms and custom solutions, enabling them to focus on their core competencies. The result is an accelerated time-to-market, reduced total-cost-of-ownership and an improved overall application with leading-edge, highly-reliable embedded technology.

Kontron is listed on the German TecDAX stock exchange under the symbol "KBC". For more information, please visit: http://www.kontron.com/