PC/104-Plus Platform incorporates power-saving feature.
Press Release Summary: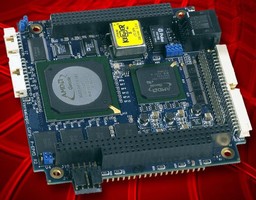 Suited for systems that do not need to be instantly responsive at all times, Puma utilizes Suspend-to-RAM (STR) function of General Software's Embedded BIOS® 2000 that allows system to wake up and resume processing in seconds. STR mode lets most Puma circuitry be turned off while OS and application information is stored in RAM. Board consumes under 1 W of power in STR mode, which can be enabled or disabled at will.
---
Original Press Release:

VersaLogic Corp. and General Software Partner to Deliver Power-Saving Embedded Board



Eugene , OR - VersaLogic Corp. and General Software, Inc. today announced the implementation of a significant power saving feature on VersaLogic's PC/104-Plus platform, the Puma. The Suspend-to-RAM function (ACPI S3) of General Software's Embedded BIOS® 2000, allows the system to wake up and resume processing in mere seconds. This power-saving option is perfect for battery operated or power-constrained applications.

VersaLogic's Puma board includes circuitry to radically reduce power usage in systems that do not require being fully "awake" or instantly responsive at all times. The Suspend-to-RAM mode allows most of the Puma circuitry to be turned off, while all OS and application information is stored in RAM. The RAM image allows the system to wake up, restore power to all on-board components, and resume exactly where it left off. The board consumes less then 1 watt of power in Suspend-to-RAM mode.

Utilizing the Suspend-to-RAM (STR) feature of Embedded BIOS® 2000 can result in radically lower power consumption and system heat dissipation. "Modern BIOSes and operating systems in general support STR, but this power-saver mode has seen limited use in embedded systems because it requires BIOS to POST quickly, on the order of a second or two, instead of minutes, like a desktop BIOS," said Steve Jones, General Software's CTO. "VersaLogic's use of STR with Embedded BIOS 2000's quick boot feature enables their customers to realize the most power savings with the fastest possible boot time, giving their customers a real competitive advantage."

Embedded BIOS 2000's quick boot feature accelerates boot time in two ways. First, it minimizes the time BIOS spends in POST (Power On Self Test) to as little as 85 milliseconds (0.085 seconds), currently the world's fastest. Second, it accelerates loading the operating system image during Suspend-to-RAM's resume path by supporting native I/O hardware interfaces provided by ATA and SATA disk drives to enable maximum throughput. When these two optimizations are put together, a system built with Embedded BIOS 2000 can become responsive after being awakened in seconds, instead of minutes as with desktop PCs.

The Suspend-to-RAM feature is easily enabled or disabled. Initiating the Suspend-to-RAM mode (and waking up) is usually handled automatically by the operating system. "The ease of use, coupled with the Puma's robust functionality, is a good match for many embedded applications where low-power is important" said Gary Harris, engineering VP at VersaLogic.

The Puma, with the unique power-saving S3 feature, is available now. Suspend-to-RAM mode functionality has been tested under Windows XP & Windows XP Embedded. Puma pricing is under $600 in OEM quantities. For additional information contact VersaLogic Corp. at (541) 485-8575 or info@VersaLogic.com, or visit their on-line catalog at www.VersaLogic.com.

About VersaLogic Corporation
A leading supplier of industrial computers since 1976, VersaLogic focuses on
high-quality board-level products for embedded OEM applications. Product lines
include EBX, PC/104-Plus, EPIC, and STD 32 Bus. Their 5-year product availability
guarantee and outstanding warranties demonstrate a commitment to service. Industry-wide
surveys rated the company as a "Platinum" level embedded board vendor for the
last three consecutive years. For more information, visit www.VersaLogic.com.

About General Software, Inc.
General Software, Inc. provides superior embedded x86 firmware solutions and
world-class support for OEM manufacturers of telecommunications, data communications,
consumer electronics, dedicated servers, and other specialized computing devices.
General Software's well-architected and reliable firmware products reduce risk,
speed development, and address embedded OEM product lifecycle needs. For more
information about General Software and its embedded firmware, visit gensw.com,
e-mail sales@gensw.com, or call 800-850-5755 or 425-576-8300.

VersaLogic Corporation
3888 Stewart Rd.
Eugene, OR 97402
(541) 485-8575

More from Communication Systems & Equipment