PC/104-Plus CPU Module supports AMD Geode LX Processors.
Press Release Summary: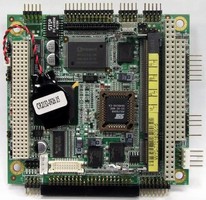 Occupying 90 x 96 mm footprint, IBASE IB704 does not require fan, is rated for -20 to +70°C operation, and suits space-constrained applications. It features AMD Geode CS5536 companion device, optimized to work with 0.9 W, 500 MHz AMD Geode LX 800 processor. One SO-DIMM socket supports up to 1 GB DDR SDRAM, and integrated VGA controller supports CRT, TFT, and LVDS LCDs. Connectivity is provided by PC/104+ and 10/100 BaseT Ethernet interfaces as well as 4 USB 2.0 and 2 serial ports.
---
Original Press Release:

IBASE Announces PC/104-Plus CPU Modules with AMD Geode LX Processors



TAIPEI, TAIWAN, December 7, 2007 -IBASE Technology, a leading manufacturer of RoHS-compliant single board computers and industrial motherboards, today introduced the IBASE IB704 PC/104 Plus module featuring the AMD Geode CS5536 companion device, optimized to work with the AMD Geode LX 800@0.9W processor. With a compact 90mm x 96mm footprint standard, the IB704 is suited for space-constraint applications in factory automation, military, security, transportation and POS. The board does not require a fan and features extended temperature operation that enables it to perform in harsh environment.

The IB704 delivers the highest power/performance ratio available in the industry and comes with advanced graphics, connectivity and expansion features. On board is one SO-DIMM socket supporting up to 1GB of DDR SDRAM. The integrated VGA controller supports for CRT, TFT and LVDS LCD displays. Connectivity interfaces include the PC/104+ connector and a 10/100 BaseT Ethernet, four USB 2.0 and two serial ports. Additional information on the IB704 is available at www.ibase.com.tw.

IB704 FEATURES

o Embedded AMD Geode LX700 (433MHz) / LX800 (500MHz)
o DDR SO-DIMM x 1, Max. 1GB
o Realtek RTL8100C 10/100 BaseT Ethernet
o Integrated LX800/LX700 2D VGA controller, supports CRT, TFT and LVDS interfaces
o 4 x USB 2.0, 2 x COM, Watchdog timer
o PC/104+ connector (PCI+ISA)
o Extended Temperature (-20°C ~ 70°C)

About IBASE Technology
IBASE Technology was set up by a group of experienced engineers who revolve around the IPC arena and talented marketing and management staff sharing the same ideals and goals. As a team, it has gained the respect and support from reputable and established companies that eventually forged strategic partnerships with IBASE. IBASE's R&D team is composed hardware and software engineers, 50% with over 10 years and 45% with between 5 to 10 years of experiences in their respective fields. IBASE, an ISO9001 certified company, also specializes in OEM/ODM services tailoring products to customers' requirements. Current product offerings from IBASE include various single board computers, Mini-ITX, industrial motherboards, ETX CPU modules, CompactPCI processor boards, network appliance and digital surveillance systems.

Contact Information:
IBASE Technology Inc.
11F, No. 3-1, Yuan Qu St., Nankang, Taipei, Taiwan, R.O.C. (Nankang Software Park)
Tel: 886-2-26557588 Fax: 886-2-26557388
Email: sales@ibase.com.tw
Web Site: www.ibase.com.tw

More from Cleaning Products & Equipment