PC/104 Card enables high-speed data acquisition.
Press Release Summary: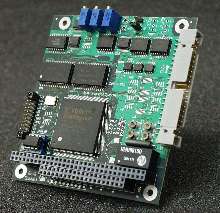 Stratus-X-ND PC/104 Card is 16-channel analog input card with 16-bit resolution and maximum data sampling rate of 200,000 samples/sec. One mega-sample buffer eliminates interrupt latency issues and enables embedded high-speed transient data recording for Linux and Windows applications. Multi-card software legacy compatibility modes are provided for existing 3rd party software driver support. Stratus-X-ND withstands temperatures from -40 to +85°C.
---
Original Press Release:

Apex Embedded Systems Introduces the Stratus X-ND PC/104 Card for High-Speed Data Acquisition for Extreme Temperatures


Monona, Wisconsin - Apex Embedded Systems, has announced the release of the Stratus-X-ND PC/104 card which enables high-speed data acquisition without interrupts. Designed for extreme duty operation (from -40C to +85C), the card is suitable for use by OEMs in medical, military, aerospace, scientific and communications applications where Commercial-Off-The-shelf (COTs) solutions are necessary.

The card provides a large one mega-sample buffer to eliminate interrupt latency issues and enable embedded high-speed transient data recording for Linux and Windows applications. In addition, multi-card software legacy compatibility modes are provided for existing third party software driver support. The Stratus-X-ND is a 16-channel analog input card with 16-bit resolution and a large one mega-sample buffer. The one mega-sample buffer offers continuous high-speed sampling without loss of data. Maximum data sampling rate is 200,000 samples per second. Dual 16-bit analog outputs are optionally available.

The Stratus-X-ND analog inputs are low-noise, low-drift and provide wide programmable input voltage ranges. A hardware moving average filter is provided for additional noise reduction with no software overhead. The Stratus-X-ND provides multi-card software legacy compatibility modes, thus offering a drop-in solution for existing developed software and/or drivers.

About Apex Embedded Systems
Apex Embedded Systems, with corporate headquarters located in Monona, Wisconsin, and founded in 1997, is a manufacture of robust PC/104 boards. Complementary engineering services enable product customization to solve unique application challenges. All products are designed and manufactured in the United States, and are built to meet or exceed operating temperatures of -40 to +85C. For more information please visit. www.apexembedded.net.

Apex Embedded Systems.
116 Owens Road. Monona Wisconsin 53716
http://www.apexembedded.net
CONTACT:
Mike Ihm of Embedded Systems,
phone 608-256-0767 X 24,
fax 608-256-0765,
mikeihm@apexembedded.com


Related