PbSe Thermal Imaging Array is optimized for sensitivity.
Press Release Summary: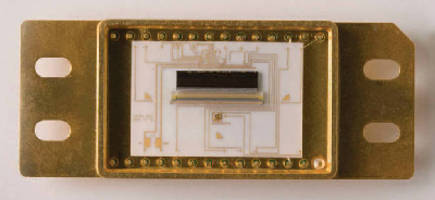 Programmable for use in high-speed applications, LIRA5S 256-element multiplex array comes in 28-pin package and is sensitive in 1.0-5.5 µm wavelength region. It can measure up to 256 discrete thermal points and offers data readout speed of 4 MHz that promotes accelerated analysis. Element size of each lead salt detector in array is 40 microns square on 50 micron centers. Integrated electronics system features ROIC chip designed to work with lead selenide (PbSe) detector material.
---
Original Press Release:

Cal Sensors Launches LIRA5S Square Pixel Lead Selenide Thermal Imaging Array



256-element multiplex array provides superior sensitivity, extended wavelength and integrated electronics

SANTA ROSA, CA - Cal Sensors announces an expansion of the company's extensive line of lead salt detectors with the introduction of LIRA5S, an innovative lead selenide (PbSe) thermal imaging array that combines superior sensitivity in a wider wavelength range with state-of-the art integrated electronics. The 256-element multiplex array is sensitive in the 1.0 to 5.5 µm wavelength region and is available with a lead time of two to four weeks in an industry-standard 28-pin package.

LIRA5S can be programmed for use in a wide variety of high-speed thermal imaging applications including hot-spot detection in manufacturing and assembly process lines, conveyer belts as well as in buildings and railway systems. LIRA5S' data readout speed of 4MHz allows for quicker data analysis and a reduced readout time.

"LIRA5S can measure up to 256 discrete thermal points and provides sensitivity at longer wavelengths than alternative detector materials such as InGaAs, which enables accurate temperature measurements of cooler objects," explains Brian Elias, Director of Engineering at Cal Sensors. "Previously, lead selenide arrays with this type of sensitivity were created only for customized solutions and required external electronic systems as well as several months lead time to produce. LIRA5S provides design engineers with superior sensitivity, extended wavelength, and integrated electronics in an industry-standard package with two to four weeks lead time."

LIRA5S' fully integrated, state-of-the-art electronics system features a ROIC chip specifically designed to work with lead selenide detector material. The resulting user-friendly interface simplifies data collection, biasing, and integration.

The element size of each of the 256 detectors in LIRA5S is 40 microns square on 50 micron centers. The standard 28-pin package allows LIRA5S to serve as an easy mechanical replacement for InGaAs array packages, providing extended wavelength analysis without the need to increase package size or alter optics set ups.

Comprehensive technical support for LIRA5S is available and includes product design, installation, operation, hardware and software development support. Additionally, Cal Sensors has developed an evaluation/demonstration system that allows design engineers to experiment with LIRA5S' operation from a Windows 98 or higher interface program. The development system consists of a LIRA5S, USB interface electronics board, USB cable, copper mounting block, heatsink with integrated fan, system power supply module (12V @ 1.25 A), cooler power supply module (5V @ 2A), and Cal-Sensors Array Controller Software.

Cal Sensors officially announced the launch of LIRA5S at the SPIE-sponsored Photonics West exhibit held January 24-29 in San Jose, California. At booth 6234 Cal Sensors also displayed multi-color IR detectors and emitters.

Cal Sensors Contact Information
For additional information or engineering assistance:

In North America, contact Cal Sensor's Sales Department, 5460 Skylane Blvd., Santa Rosa, CA 95403, USA. Phone: +1 (707) 545-4181. FAX: +1 (707) 545-5113. E-mail: info@calsensors.com Web: www.calsensors.com.

Cal Sensors also works with distributors in Austria, Belgium, China, Denmark, Finland, France, Germany, Italy, Japan, Korea, the Netherlands, Norway, Sweden, and the United Kingdom. For contact information - please visit www.calsensors.com/distributors.htm .

About Cal Sensors
Cal Sensors, an ITW company, has been a leading manufacturer of standard and customized lead selenide (PbSe) and lead sulfide (PbS) infrared detectors, infrared arrays, and infrared emitters for over 20 years.

Cal Sensor detectors are sensitive in the 1-5.5 micron wavelength region and are used in spectroscopic, imaging, medical, automotive exhaust, gas detection and moisture analysis instruments, non-contact temperature measurement, flame detection and combustion control.

Manufactured and packaged in Santa Rosa, California and distributed worldwide, Cal Sensor detectors are offered in standard or custom packages in single element, multi-color, and array configurations. Options include spectral filters, thermoelectric coolers, and temperature sensors. Additionally, Cal Sensors offers a product line and service for customers who fabricate other detector materials and don't have in-house packaging capabilities.

For additional information, please visit www.calsensors.com .