Payment Processing Tablet is built for mobility, versatility.
Press Release Summary: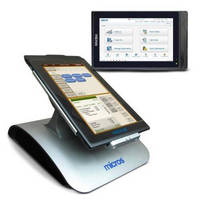 Without requiring fragile adapters or plug-ins, mTablet mobile device provides secure, fully integrated payment processing. Unit uses Wi-Fi and Bluetooth, and full color adaptive LCD can be viewed in direct sunlight. Designed to withstand damage from common falls, tablet operates from 14 to 140°F. As companion to mTablet, mStation provides flexibility of fully connected workstation and can, when equipped with high-capacity battery, allows additional deployment options.
---
Original Press Release:

MICROS mTablet and mStation Revolutionizes the Hospitality and Retail Experience



Released in tandem, mTablet and mStation provide hospitality and retail industries a business solution lacking in consumer tablets.



COLUMBIA, Md. – MICROS Systems, Inc. (NASDAQ: MCRS), a leading provider of information technology solutions for the hospitality and retail industries, announced the release of its new mTablet mobile device and mStation stand. These stylish and durable devices provide first of their kind capabilities with full mobility and peripheral connectivity.



Unlike consumer devices, the mTablet screen is easily viewed in direct sunlight. In addition, although the tablet is light and sleek, it has been designed to better withstand damage from common falls.  The mTablet provides secure, fully integrated payment processing, without fragile adapters or plug-ins, and uses the latest Wi-Fi and Bluetooth standards.



The mStation, as the companion to the mTablet, provides the versatility and flexibility of a fully connected workstation, protecting investments in new or existing peripherals and network infrastructure. Different from other mobile stands, the MICROS integrated array of available customer facing displays provide promotional marketing and order accuracy solutions. When equipped with a high capacity battery, an unplugged mStation allows additional deployment options.



"These latest devices take MICROS to a new level of innovation in mobility, with solutions for restaurants, hotels and retailers operating in any mobile environment and any kind of light--whether indoor or outdoor. By being designed from the ground up as more impervious to damage from falls, the mTablet will also reduce the cost of ownership for businesses, which can experience significant replacement costs with standard mobile devices. By functioning both as a mobile device, and when appropriate, as a fully functional stationary device, these new products, working in tandem with MICROS' industry leading software applications, redefine our solutions," stated Peter Altabef, President and CEO for MICROS Systems, Inc.



"The mTablet and mStation are compatible with many existing MICROS software platforms, and are based on open platforms which allow application developers to utilize this versatile solution with a published Application Programing Interface (API) and development tools," states Paul Schleicher, Director, Hardware Solutions for MICROS Systems Inc.  "MICROS mTablet's unique full color adaptive LCD provides a traditional display experience along with outstanding daylight viewable capability and enhanced battery life.  With an expanded operating temperature range of 14 degrees Fahrenheit to 140 degrees Fahrenheit, this is a perfect device for both indoor and outdoor use."



The mStation and mTablet are supported by MICROS' industry leading global service network.



To find out more information on the mTablet and mStation, please visit mStation.micros.com.  A related video can be found at http://youtu.be/QdquXOebDeQ.



About MICROS Systems, Inc.

MICROS Systems, Inc. provides enterprise applications for the hospitality and retail industries worldwide. Over 370,000 MICROS systems are currently installed in table and quick service restaurants, hotels, motels, casinos, leisure and entertainment, and retail operations in more than 180 countries, and on all seven continents. In addition, MICROS provides property management systems, central reservation and customer information solutions for more than 30,000 hotels worldwide, as well as point-of-sale, loss prevention, and cross-channel functionality for more than 150,000 retail stores worldwide and 17,000 Fuel and Convenience stores. MICROS stock is traded through NASDAQ under the symbol MCRS.



For more information on MICROS and its advanced information technology solutions for the hospitality and retail industries, please contact Louise Casamento, Vice President of Marketing at (443) 285-8144 or (866) 287-4736. You can also visit the MICROS website at www.micros.com or send an email to info@micros.com.  Follow MICROS on Facebook, LinkedIn, YouTube, and the MICROS Blog.



The MICROS logo is a registered trademark of MICROS Systems, Inc.

All other product and brand names are the property of their respective owners.



Contact:

Louise Casamento

443-285-8144

lcasamento@micros.com

More from Portable Tools