Paving Equipment Cleaner captures and recycles solution, solvents.
Press Release Summary: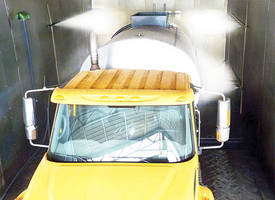 Automatic Paving Equipment Cleaning System (APECS™) cleans asphalt and bituminous road oil from paving equipment, oil distributors, compactors, and tools. Spray pattern power washes with cleaning solutions or solvents and then recirculates solution for reuse. Closed-loop, plug-and-play system includes heavy-duty, above-grade wash rack with 2 drains, pressure pumps, and settling tank. Bank of adjustable, tri-wall spray bars optimize coverage, and additional spray wands are available.
---
Original Press Release:

Riveer APECS(TM) Automatically Cleans Paving Equipment Captures and Recycles Cleaning Solvents



South Haven MI. . . . .Riveer™, a leader in wash water recovery systems, has introduced the Automatic Paving Equipment Cleaning System (APECS™), an efficient automatic containment system that reduces chemical consumption up to 80% while helping companies keep their yards clean and compliant.



Riveer designed APECS for DOT's and paving contractors looking for a more effective system for cleaning asphalt and bituminous road oil from paving equipment, oil distributors, compactors and tools.



"The spray system you designed for us is a success," said Dirk Mohon, Operations Manager of the Edgar County, IL Highway Department, referring to the county's first year with Riveer APECS. "With just a few cycles it cleaned our distributer better than it's been cleaned since we bought it."



APECS' unique spray pattern power washes with cleaning solutions or solvents, then recirculates the solution for reuse. The system reclaims terpenes, soys, or solvents, saving thousands of dollars in lost chemistry.



APECS™ Zero Discharge Technology Reduces Chemical Consumption



APECS is a closed-loop system that includes a heavy-duty above-grade wash rack with two drains, pressure pumps, and a settling tank. A bank of adjustable, tri-wall spray bars deliver extensive coverage, and additional spray wands available for cleaning hard to reach equipment, augers, and tools. The zero discharge technology includes a diaphragm pump that recovers and reuses discharged solvent.



APECS' footprint can be customized to meet the user's specifications. Racks are built from heavy-duty stainless steel and feature low-profile ramps that are ideal for loading and unloading any type of equipment. APECS is a convenient plug and play system, requiring no excavating, infrastructure, or permitting.



About Riveer



Founded in 1983, Riveer specializes in designing efficient and environmentally compliant wash rack and rinse systems for military, industrial and commercial markets. Riveer is focused on designing easy-to-operate systems that outperform the competition and are compliant with all federal and local environmental regulations. Riveer systems can be found throughout the world, helping companies meet environmental regulations, keeping equipment clean, combating the never ending threat of corrosion, and helping to reclaim as much precious water as possible.



Riveer is headquartered in South Haven, Michigan. For additional information, visit riveer.com or call 269.637.1997

More from Software