Patterson Fan Expands Energy Savings Product Line to Complete Line of "Blue Fans"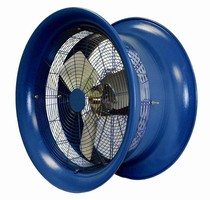 BLYTHEWOOD, SC - Patterson Fan, a Blythewood company headed by CEO & President Vance Patterson, has incorporated their energy savings designs to include all "blue fans." This summer the 26-inch, 30-inch, and the brand new 34-inch fans will have a newly engineered housing that lowers the amp draws of these powerful fans by 16%. These are patent pending designs and join the already patented Hybrid fans that are available in the 14-inch, 18-inch, and 22-inch sizes. They also have reduced amp draws of 16%.

The 34-inch Turbo Fan replaces Patterson's larger 36" & 42" fans. "We have reduced the size of the fan, reduced the amp draws, and maintained the performance that was available from the 36" & 42" fans," stated Jack Davenport, V.P. of Sales & Marketing at Patterson.

Patterson's fans have long been known for their ability to focus air movement over long distances. "We have led the industry in providing reliable air movement products for increased employee productivity and improved workplace conditions," added Davenport. "Companies have been able to substantially reduce the quantity of fans in their facilities by using Patterson's methods for enhancing air throw with high-velocity, directional fans."

Patterson fans are found in the top retail distribution centers, manufacturing, and package handling companies in the United States. Several U.S. and foreign companies have exported Patterson products to their overseas operations including locations in China, Europe, and the Middle East.

Research, driven by customer requests for even more efficient "blue fans," as they are known by customers, first led to modifications in the design of Patterson Fan's two best selling fan models, the 18-inch and the 22-inch sizes. "Gills" were added to the hull of the originals and now to all sizes in the product line.

"The total energy savings on the fans our customers use will be in millions of kilowatt-hours," stated Davenport.

Their philosophy of working with their customers to improve employee working conditions has led to several innovative, customer-focused programs. The success of these programs, in their early years, led to Patterson Fan's selection as #160 on the 1993 Inc. 500 Fastest-Growing Privately Owned Companies in America list. A feat Patterson later duplicated with Patterson Ventilation's 2003 inclusion on the list at #471.

For more information, contact Jim Whittle, Director of Global Marketing, Patterson Fan, 800-768-3985.

More from Electrical Equipment & Systems