Pattern Generator is suited for testing HDTV displays.
Press Release Summary: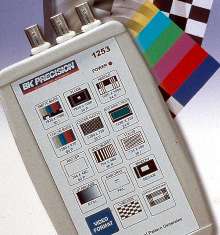 Battery-powered, multi-standard Model 1253 delivers accurate test patterns for HDTV displays. Product can display 14 useful patterns for 12 commonly used video formats from its HDTV Component (YPbPr) outputs. Generator weighs 6.2 oz and measures 5.6 x 3.1 x 1.1 in. Overscan DVD Aspect Ration Pattern feature covers commonly used aspect ratios for movies recorded to DVD media. Portable unit is suited for use on bench or in field.
---
Original Press Release:
B+K Precision® Introduces Portable HDTV Multi-Standard Pattern Generator

YORBA LINDA, CA... April 30, 2003 -- B&K Precision Corporation, one of the industry's leading suppliers of test and measurement products, today announced the addition of the Model 1253, a cost-effective Portable HDTV Multi-Standard Pattern Generator. This compact, lightweight portable, battery-powered unit delivers accurate test patterns for the testing of most common HDTV displays including Plasma, LCD, TFT, CRT, DLP, GLV, and OLED digital display products. With a suggested retail price of $795, the Model 1253 is one of the most aggressively priced testers on the market today.

B+K Precision's Model 1253 can display from its HDTV Component (YPbPr) outputs fourteen (14) of the most useful patterns for twelve (12) of the most commonly used video formats. The Generator is lightweight (6.2 oz), compact (5.6" x 3.1 " x 1.1"), and is ideal for use on the bench or in the field.

The Model 1253 offers a number of outstanding features that provide ease of use, including: the following Video Formats and Test Patterns

Video Formats

1920x1080 301, 1920x1080 30p, 1920x1080 24p, 1280x720 60p, 1280x720 30p, 1280x720 24p, 704x480 60p, 704x480 30p, 704x480 301, NTSC (M), PAL(B, D, G, H, I)SECAM (L, D, K, K1)

Test Patterns

SMPTE Bars (75%, 100%,) (power up default is 75%), PLUGE, Needle, Color Bars (75%, 100%), Cross Hatch (16:9, 12:9, 4:3), DVD Aspect Ratio (1.33:1, 1.78:1, 1.85:1, 2.35:1), Raster (75% wht, yel, cyn, grn, mag, red, blu, blk), Multiburst, Focus, Staircase, ANSI Gray, Window (2.5 IRE steps from Black to White), Checker, and Overscan - Bounce

The Model 1253 is a compact, portable, easy-to-operate, and highly reliable pattern generator. It is a must-have tool for TV repair engineers and technicians to test and calibrate digital televisions, for Video engineers to maintain studio equipment, and for Home Theater installation technicians to fine-tune the picture quality of digital televisions. It can also connect to standard video units.

The Model 1253 displays the most popular formats including 1920 x 1080 301, 1280 x 720 60p, 704 x 480 60p, NTSC, PAL and SECAM. A unique feature of the Model 1253 is the Overscan DVD Aspect Ration Pattern. This feature covers the most commonly used aspect ratios used for all movies recorded to DVD media.

Measuring a compact 3.1" wide by 1.1" deep by 5.6" long (79mm x 28mm x 142mm), the Model 1253 is powered by a standard 9V battery and is covered by B + K precision's one-year warranty. Priced at $795, it comes complete with operating manual, battery, three BNC-to-RCA output cables, and carry case and is available for immediate delivery.

For over 50 years, B&K Precision Corporation has developed a reputation for excellence in the design and manufacture of high quality, reliable and cost-effective test and measurement products. Recognized for their price-performance value, ease of use, measurement accuracy and application flexibility, B&K Precision Corporation products are available worldwide through a global network of authorized distributors.

For additional information or the name and location of an authorized distributor near you, contact B&K Precision Corporation, 22820 Savi Ranch Parkway, Yorba Linda, California, 92887, Tel: (714) 921-9095, Fax: (714) 921-6422 or visit our Web site at www.bkprecision.com
More from Software