Patient Monitoring System supports remote monitoring via tablet.
Press Release Summary: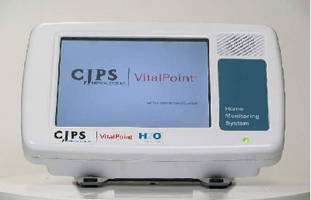 Supporting Microsoft Windows®-based tablet PCs, VitalPoint® HOME can monitor blood pressure, blood oxygen saturation, pulse rate, weight, and glucose level as well as prothrombin time and ratios, temperature, fluid status, and electrocardiogram data. Standalone 4.5 lb device enables caregivers to remotely monitor patients in their home using laptop or cell phone. Patients receive verbal, written, and visual instructions and reminders.
---
Original Press Release:

CJPS Medical Systems Introduces Remote Patient Monitoring with Tablet PCs



Auburn Hills MI USA -- Medical E-Mail News(TM) / -- CJPS Medical Systems announced today that VitalPoint® HOME, www.cjps.com/medicalsystems/vitalpointhome/ its remote patient monitor, can be used with Microsoft Windows® - based Tablet PCs. This announcement comes on the heels of CJPS being the first company waiving all connectivity fees to caregivers accessing their patients' data remotely using home monitors.

Typically, nurses and doctors have been using their desktops or laptops to view their patient data using VitalPoint® HOME, which has been designed to be the easiest system to use anywhere - Not just for the patients, but also for the caregivers monitoring their health. This newest development makes it even easier for nurses and doctors to pick up patients' reported symptoms and vital signs data from anywhere. All existing VitalPoint® HOME units that have been sold in the field are already capable of such connectivity, and all that needs to be purchased is a Microsoft Windows® - based Tablet PC, and then download VitalPoint® HOME Remote Device Connectivity® software from CJPS.

With facilities looking to upgrade to easier-to-use, and more modern and reliable remote patient monitors to reduce their readmission rates, improve health care delivery, while trying to keep up with a sharp increase in older, chronically-ill patients, this unique offering could not come at a better time.

In spite of large name competitors, CJPS continues to gain market share thanks to breakthrough industry firsts such as never charging connectivity fees, trading-in existing remote patient monitors and now, providing true mobile health care to home patients. This disruptive industry transformation, driven single-handedly by CJPS, and coupled with the state-of-the-art VitalPoint® technology, contributed greatly to the large national contracts recently won by the company.

VitalPoint® is a standalone 4.5-lb device that can monitor blood pressure, blood oxygen saturation, pulse rate, weight, glucose level, prothrombin time and ratios, temperature, fluid status, and provide electrocardiogram data, and provides the caregiver with the ability to remotely monitor patients' conditions using their laptop or cell phone.

About CJPS Medical Systems

CJPS Medical Systems is part of a group of companies (http://www.CJPS.com) providing products and services to the healthcare industry. VitalPoint® is manufactured in a FDA-registered, ISO-13485 certified manufacturing facility in Auburn Hills MI USA.

For more information, to receive an electronic brochure, or to schedule a product demonstration, contact: CJPS-Info@CJPS.com

©Copyright 2012. Biomedical Market Newsletter Inc. All rights reserved.


More from Material Handling & Storage