Patented Nucleic Acid Extraction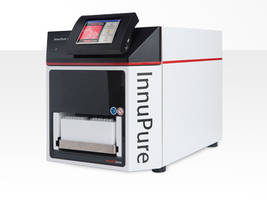 Fullerton, CA – Isolate and purify RNA and DNA using the unique Innupure® C16 system from Analytik Jena. The patented and automated magnetic-particle separation system is available at the Laboratory-Equipment website. Technicians save time by using preprogrammed protocols that are optimized for various starting sample types. Pre-filled, plastic reagent kits contain all necessary chemicals so that time-consuming sample prep and lysis steps are unnecessary.
Nucleic acids in the samples are effectively bound to magnetic particles with surfaces treated to allow maximum adsorption. These particles are separated from the rest of the sample and a combination of pipetting action and reagents resolubilize the RNA and DNA for elution. This results in very pure nucleic acid material. Run up to 16 samples simultaneously, and track progress with the large 5.7" color touchscreen. Applications include PCR, electrophoresis, and spectrophotometry analysis.
InnuPure C16 is designed to avoid sample-to-sample cross-contaminating carryover, giving you reliable results. Between runs, use the optional ultra-violet sterilizing lamp module to decontaminate the sample compartment. Another time-saving aspect of InnuPure C16 is its wearless steel pistons; no maintenance required.
Laboratory-Equipment, a Terra Universal brand, offers hundreds of top-tier laboratory instruments and supplies. For more information about Analytik Jena's InnuPure C16 Automated Extraction System, visit the Laboratory-Equipment website.
Contact:
Evan Messenger
Terra Universal: Marketing
Phone (714) 578-6000
More from Electronic Components & Devices