Patent-Pending Wrapping Machine Cocoons Palletized Loads in Plastic to Allow Long-Term, Outdoor Storage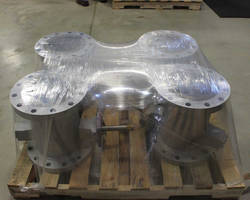 TAB Wrapper Tornado Protects Goods from Weather, Contact Damage
Reading, PA: The patent-pending TAB Wrapper Tornado line of orbital wrapping machines from TAB Industries, LLC, Reading, Pa. (www.tabwrapper.com), cocoons palletized loads in multiple layers of plastic film to create a fully enclosed, weather-resistant barrier against the elements that allows valuable products to be stored on their pallets outdoors and in semi-enclosed areas without fear of rust, contact damage or significant deterioration. An upgrade versus horizontal, turntable stretch-wrappers that leave palletized loads exposed from above and below, the TAB Wrapper Tornado orbital wrappers feature a proprietary design that wraps the film 360 degrees around, under and over the top of the load, securing the load to the pallet as a single, unitized load without need for banding or strapping.
Ideal for safeguarding goods packaged in cartons, drums, bags or other containers, and for goods palletized without external packaging, the TAB Wrapper Tornado line enables warehouse and materials managers to move fabricated metal products, tubing and pipe, building products, valves and other products outdoors to free precious rack and shelf space indoors. Or, valuable floor space may be opened for additional production or for a safer work environment. The TAB Wrapper Tornado line comprises three, standard models with 100", 80" and 40" wrapping rings to accommodate products as large as five feet x five feet of infinite lengths and even larger in custom models upon request. Manufactured in the company's Reading, PA. headquarters, the TAB Wrapper Tornado line ships fully assembled, ready to plug in and operate and comes with a full warranty.
For a free brochure or more information, contact TAB Industries, LLC, 2525 N. 12th Street, Reading, PA 19605; 610-921-0012; info@tabwrapper.com or see www.tabwrapper.com.
Media Contact:
Andy Brizek
610-921-0012,
Related