Patch RFID Antenna has cross polarization of less than 20 dB.
Press Release Summary: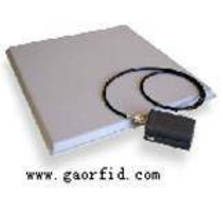 Available with footprint of 370 x 384 x 17 mm and unique direction properties, GAO 304004, 433 MHz RFID Active Circular Polarized Patch Antenna suits applications where tags are situated in varying orientations when compared to antenna plane. With gain of -3 dB at connector, 15 dB of back attenuation, impendence of 50 W, and max. power consumption of 20 W, antenna is mountable inside dry wall construction, behind wood paneling, and non-RF shielding materials.
---
Original Press Release:

GAO Offers 433 MHz Circular Polarized Patch RFID Antenna



Toronto, Canada - GAO RFID Inc. (www.GAORFID.com) recommends its active circular polarized patch RFID antenna (GAO 304004) that is optimized and typically used for its unique direction properties. It is best suited to applications where the tags are situated in varying orientations when compared to the antenna plane; a typical occurrence in access control systems, vehicle yard management, parking control systems, container monitoring, etc.

GAO's 433MHz RFID Active Circular Polarised Patch Antenna can be mounted inside a dry wall construction, behind wood paneling, glass or other non-RF shielding materials and can be painted with non-metallic paint.

Specifications of GAO's 433MHz RFID Active Circular Polarised Patch Antenna:

o Finish: UV resistant random and UV coating on rear
o Gain at Connector: -3dB
o Cable length: 5m
o Back Attenuation: 15dB Nominal
o Connector Type: Male BNC
o VSWR: <1.6 : 1
o Impendence: 50 W
o Cross Polarization: >20dB
o Specification: Conforms to ETS 300 019
o Dimensions: 370mm * 384mm * 17mm
o Temperature Range: - 40°C to 70°C
o Max Power: 20W

For more information about GAO's 433MHz RFID Active Circular Polarised Patch Antenna, please visit www.GAORFID.com or contact sales@GAORFID.com

About GAO RFID Inc.
GAO RFID Inc. is a leading provider of Radio Frequency Identification (RFID) hardware and solutions to end users worldwide. GAO RFID combines best of breed with low cost RFID readers, RFID tags and enabling-RFID software. We have a wide variety of RFID readers, tags and antennas in all the RFID technologies, Low Frequency (LF), High Frequency (HF), Ultra High Frequency (UHF, Gen 2) as well as Active and Semi-Passive. GAO RFID's products and services are easily customized for use in Asset Tracking, Health care, Supply Chain & Logistics, Event Management, Access Control, Livestock Tracking, Inventory Control & Management, Field Service, Maintenance and Document Authentication.

For more information please visit www.GAORFID.com

GAO RFID Inc. is a member of GAO Group, which also includes:

GAO RFID Inc.: www.GAORFID.com
GAO Tek Inc.: www.GAOTek.com
GAO Research Inc.: www.GAOResearch.com
WowGao Inc.: www.WowGao.com
GAO RFID Asset Tracking Inc.: www.GAORFIDAssetTracking.com
GAO Embedded Inc.: www.GAOEmbedded.com
GAO Instruments Inc.: www.GAOInstruments.com
GAO Comm Inc.: www.GAOComm.com
GAO Fiber Optics Inc.: www.GAOFiberOptics.com

Company Name: GAO TEK INC.
Address 1: 601 Milner Avenue, Third Floor
City: 601 Milner Avenue, Third Floor
State: OR
Zip: M1B 2K4
Country: Canada
Phone: 416-292-0038
URL: www.gaorfid.com

More from Packaging Products & Equipment