Pasteurization System suits small/medium food processors.
Press Release Summary: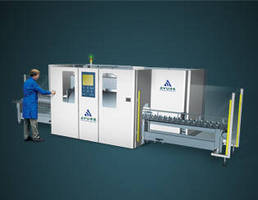 Model QFP 100L-600 horizontal High Pressure Processing (HPP) system with 100 L capacity features operating pressures of 87,000 psi to preserve food's natural flavor, nutrients, and appearance without heat or chemical preservatives. Cycle time of 6.5 min enables system to process 28,000 lb of sliced meat in 20 hr workday. Measuring 27 x 19 ft, system has 12.1 x 55.9 in. chamber and intensifier pump that provides rapid compression/decompression. HPP inactivates food-borne pathogens and spoilage agents.
---
Original Press Release:

New High Pressure Pasteurization System for Small/Medium Food Processors



KENT WASHINGTON - Avure introduces a low-cost horizontal High Pressure Processing (HPP) system, the QFP 100L-600. This 100 liter capacity model sells for under $1 million, a price point that makes advanced food safety technology and production volume HPP more affordable for small/medium and seasonal food producers. It features short cycle times for higher throughput, low operating and energy costs, and advanced controls with enhanced process visibility and a high degree of self-diagnostics. The 100L can also provide larger HPP processors with additional offload capacity and/or operational redundancy.

Operating pressures of 600 MPa (87,000 psi) preserve a food's natural flavor, nutrients and appearance without heat or chemical preservatives and little or no change in organoleptic properties. HPP inactivates food-borne pathogens and spoilage agents, resulting in a safer product and an significant extension of microbiological shelf life. Avure has delivered more than 100 HPP systems worldwide, ranging from 2 liter laboratory units to 687 liter high-volume production systems.

The 100L is designed to meet the capacity needs of the smaller food producer. For example, with a cycle time of 6.5 minutes, the system can process more than 12,650 kg (28,000 lbs.) of sliced meat in a typical 20-hour workday. Throughput is enhanced by a large 308mm dia. x 1,420mm processing chamber (12.1" x 55.9"), and a top-of-the-line 30XQ intensifier pump that provides rapid compression and decompression. The horizontal orientation provides single direction, in line product flow compatible with most HACCP and QA programs. The compact design results in a total system footprint of just 8.2m x 5.8m (27' x 19'), which allows for easy installation and relocation if necessary.

To assist food processors in this new technology, Avure's food science group operates a fully equipped research laboratory in Kent, Washington USA, providing HPP applicability assessments, microbiological testing, new product and recipe development, and packaging consulting services.

About Avure Technologies, Inc.:

Avure Technologies specializes in the design, manufacturing, installation, and global support of high pressure presses for sheet metal forming, densification of advanced materials and critical industrial parts, and high pressure pasteurization to keep food fresh longer and pathogen-free. The company has its headquarters in Kent, Washington (Seattle area), with significant operations in Vasteras, Sweden and Columbus, Ohio. Avure Technologies Incorporated 22408 66th Avenue South Kent WA 98032 USA P 253.981.6350 F 253.981.6230 www.avure.com

More from Sensors, Monitors & Transducers