Passive UHF RFID Tag has read range of up to 15 ft.
Press Release Summary: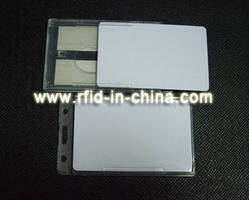 Complying with EPC Gen 2 and ISO 18000-6B standards, passive UHF RFID Tag for car access control can be customized from 860-960 MHz. It is suited for tracking and managing vehicles in parking areas or gated communities, as well as easy in and out for drivers. Product incorporates UHF identification card in ABS housing, with 3M glue on one side.
---
Original Press Release:

DAILY UHF RFID Tags Deliver Read Range of up to 15 ft.



Passive UHF tags are in the ascendant as a result of their low cost and long read range. DAILY RFID has recently released a passive UHF RFID Tag for car access control. Complying with EPC Gen 2 and ISO 18000-6B standards, this UHF RFID tag promises fast read rate and long read range of up to 15 feet.

Designed for global use, this UHF RFID tag can be customermized from 860MHz to 960MHz. Its readability of up to 15 feet makes this UHF tag a ideal choice to track and manage vehicles in parking areas or gated communities, as well as easy in and out for drivers.

The UHF RFID tag is easy to install on vehicle windshields. This UHF tag is a UHF identification card inserted into a ABS housing, with 3M glue on one side. And each DAILY UHF RFID tag has a unique ID for security of the RFID vehicle access control system.

Durable, cost effective UHF tags are one more example of DAILY RFID's commitment to develop high-value RFID products. Some small, fully encapsulated UHF tags of DAILY RFID, such as the metal tag and clear inlay, have been successfully used in asset tracking applications.

You can visit www.rfid-in-china.com/products_703_1.html for more info about UHF RFID tags.

About DAILY RFID CO.,LIMITED

DAILY RFID CO.,LIMITED ( www.rfid-in-china.com ), which belongs to PAN Group Co., ltd, is the leading company focusing on the research and development of EPC & RFID technology in China.

DAILY RFID specialize in producing arguably the world's most extensive line of RFID Tag,RFID Label,Smart Card and RFID Reader, which are suitable for any vertical markets, and have obtained the National Integrated Circuit Card Register Certificate, IC Card Manufacture License and ISO9001 Quality Management System Certification. Also, we own a factory covering an area of 26,000 square meters.

We are commited to providing "Innovative Technology", " Superior, Cost-efficient Product" and " Professional, Efficient Customer Services".

Company Name: DAILY RFID CO.,LIMITED

Address 1: Rm D13,4/F,Baiyun Commercial Center,NO.131,

Jichang Road

City: Guangzhou

Zip: 510403

Country: China

Phone: 86-20-86346357

URL: www.rfid-in-china.com/

Contact Name: Jack Pan

E-mail: daily01@vip.163.com

More from Software