Passive Tool Changer does not require compressed air, electrics.
Press Release Summary: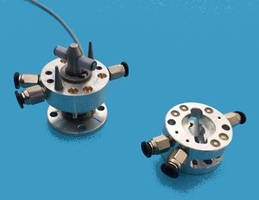 Available for R12 five- and six-axis articulated robot arms, TC12 is locked entirely by last axis of robot. This passive tool changer does not require any compressed air or electrics to operate and can pass through 3 pneumatic lines (air/vacuum) and up to 5 electrical connections. Pneumatics are enough for double acting gripper and vacuum pickup, and electrics have gold contacts suitable for electric gripper, USB, or any electronic device.
---
Original Press Release:

ST Robotics Announces New Passive Tool Changer System



PRINCETON, NJ -- ST Robotics has announced today the release of its new passive tool changer system, the TC12, for the ST Robotics R12 five and six-axis articulated robot arms.



Locked entirely by the last axis of the robot, this innovative changer requires no compressed air or electrics to operate, and can pass through three pneumatic lines (air and/or vacuum) and up to five electrical connections. The pneumatics are enough for a double acting gripper and a vacuum pickup. The electrics have gold contacts suitable for an electric gripper, USB or any electronic device.



TC12 New passive tool changer system

r12 tool changer-blue (3)



"After researching the available passive tool changers on the market, I found they were not small enough. I also wanted to avoid pneumatics, so we therefore built our own mini passive connection, the ST Robotics TC12 tool changer designed for our R12 series robots.  Our system requires no air and no electrics, making our tool changer unique," commented David Sands, President and CEO of ST Robotics.



A video shows the TC12 tool changer mounted on an R12 five axis robot arm alternating between a new 3D printed vacuum pickup (in red) and an electric gripper.



ST Robotics, widely known for 'robotics within reach', has offices in Princeton, New Jersey and Cambridge, England as well as offices in Asia. One of the first manufacturers of bench-top robot arms, ST Robotics has been providing affordable, easy-to-use, ready-to-go, boxed robots for 30 years.  ST's robots are utilized the world over by companies and institutions such as Lockheed-Martin, Amazon, Motorola, Honeywell, MIT, NASA, Pfizer and Sony, to name a few. The numerous applications for ST's robots benefit the manufacturing, nuclear, pharmaceutical, laboratory and semiconductor industries.



For additional information on ST Robotics, contact:

sales1@strobotics.com

(609) 584 7522

www.strobotics.com



For press inquiries, contact:

Joanne Pransky

World's First Robotic Psychiatrist®

drjoanne@robot.md

(650) ROBOT-MD

More from Chemicals & Gases