Passive RFID Tag offers contactless read/write capabilities.
Press Release Summary: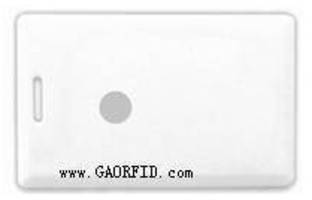 Featuring 64-bit capacity and 1-6 in. read range, 125 kHz Low Frequency (LF) Clamshell Passive RFID Card (GAO 111202) is used for ticketing, security, industrial, or manufacturing automation and prepayment devices. This 85.6 x 3.98 x 1.8 mm tag uses Manchester, Bi-phase, PSK data coding and supports multi-detection. Construction is resistant to immersion in salt water, alcohol, oil, 10% HCL, ammonia, shock, and vibration. Silk screening or offset printing is supported on PVC side.
---
Original Press Release:

GAO Recommends Its 125kHz (LF) Clamshell Passive RFID Card



Toronto, Canada - GAO RFID Inc. (www.GAORFID.com) introduces its 125kHz Low Frequency (LF) Clamshell Passive RFID Card (GAO 111202). This is a contactless tag used for ticketing, security, industrial or manufacturing automation and prepayment devices.

GAO's 125KHz (LF) Clamshell RFID Card is a wallet size passive tag with a slot to attach a strap and can be silk screened or offset printed on its PVC side. The card tag can withstand water, is resistant to immersion in salt water, alcohol, oil, 10% HCL, ammonia, shock and vibration. Having both read and write capabilities, this optimized tag provides the benefit of convenience and speeding up of checkout or authentication processes.

GAO's 125KHz (LF) Clamshell RFID Card EM4100 Provides the Following Specifications:
o Type: Contactless Read/Write
o Operating Frequency: 125kHz ± 6kHz
o Capacity: 64bits
o Data Coding Type: Manchester, Bi-phase, PSK
o Tested Read Range: 2cm to 15cm (1 inch to 6 inch) (depending on RFID reader and data coding type)
o Multi-Detection: Yes
o Max read quantity: Tag dependant
o Dimensions (mm): 85.6 x 3.98 x 1.8
o Material: ABS + PVC
o Weight: 9g ± 0.5g
o Compliance: IC EM4450
o Temperature: storing at -55° to 100°, operating at -40° to 85°

For further information about this product, please visit 125KHz (LF) Clamshell RFID Card EM4100 - Passive, or contact sales@GAORFID.com.

About GAO RFID Inc.
GAO RFID Inc. is a leading provider of Radio Frequency Identification (RFID) hardware and solutions to end users worldwide. GAO RFID combines best of breed with low cost RFID readers, RFID tags and enabling-RFID software. We have a wide variety of RFID readers, tags and antennas in all the RFID technologies, Low Frequency (LF), High Frequency (HF), Ultra High Frequency (UHF, Gen 2) as well as Active and Semi-Passive. GAO RFID's products and services are easily customized for use in Asset Tracking, Health care, Supply Chain & Logistics, Event Management, Access Control, Livestock Tracking, Inventory Control & Management, Field Service, Maintenance and Document Authentication.

For more information please visit www.GAORFID.com

GAO RFID Inc. is a member of GAO Group, which also includes
o GAO RFID Inc. - www.GAORFID.com
o GAO Tek Inc. - http://www.GAOTek.com
o GAO Research Inc. - www.GAOResearch.com
o WowGao Inc. - www.WowGao.com
o GAO RFID Asset Tracking - www.GAORFIDAssetTracking.com
o GAO Embedded - www.GAOEmbedded.com
o GAO Instruments - www.GAOInstruments.com
o GAO Comm - www.GAOComm.com
o GAO Fiber Optics - www.GAOFiberOptics.com

More from Cleaning Products & Equipment