Passive RFID Card offers both read and write capabilities.
Press Release Summary: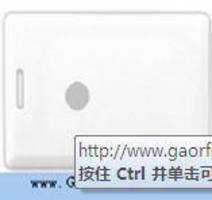 Suitable for use in ticketing, security, industrial, or manufacturing automation and prepayment devices, wallet sized 125 kHz Clamshell RFID Card features slot to strap it to asset or attach lanyard for users to wear. It can be silk screened or offset printed on PVC side. Waterproof device is resistant to salt water, alcohol, oil, 10% HCL, ammonia immersion, shock, and vibration.
---
Original Press Release:

125KHz Clamshell Passive RFID Card Announced by GAO



03/26/2009

Toronto, Canada - GAO RFID Inc. (www.GAORFID.com) introduces its 125KHz Clamshell Passive RFID Card (GAO111202) for use in ticketing, security, industrial or manufacturing automation and prepayment devices. The optimized tag provides a convenient and fast authentication processes and can be both read from and written to.

GAO's 125KHz Clamshell RFID Card is a wallet sized passive RFID tag with a slot to strap it to an asset or attach a lanyard for persons to wear. The card can be silk screened or offset printed on its PVC side. The water-proof tag is resistant to immersion in salt water, alcohol, oil, 10% HCL, ammonia, shock and vibration.

For further information about 125KHz Clamshell Passive RFID Card, please visit www.GAORFID.com or contact sales@GAORFID.com

About GAO RFID Asset Tracking

GAO RFID Asset Tracking is a leading provider of Radio Frequency Identification (RFID) hardware and solutions to end users worldwide. GAO RFID Asset Tracking combines best of breed with low cost RFID readers, RFID tags and enabling-RFID software. We have a wide variety of RFID readers, tags and antennas in all the RFID technologies, Low Frequency (LF), High Frequency (HF), Ultra High Frequency (UHF, Gen 2) as well as Active and Semi-Passive. GAO Asset Tracking's products and services are easily customized for use in Asset Tracking, Health care, Supply Chain & Logistics, Event Management, Access Control, Livestock Tracking, Inventory Control & Management, Field Service, Maintenance and Document Authentication.

For more information please visit www.GAORFIDAssetTracking.com

GAO RFID Asset Tracking is a member of GAO Group, which also includes

GAO RFID Inc. - www.GAORFID.com

GAO Tek Inc. - www.GAOTek.com

GAO Research Inc. - www.GAOResearch.com

GAO Embedded - www.GAOEmbedded.com

GAO Instruments - www.GAOInstruments.com

GAO Comm - www.GAOComm.com

GAO Fiber Optics - www.GAOFiberOptics.com

Company Name: GAO RFID Inc.

Address 1: 601 Milner Avenue , Third Floor

City: Toronto

State: OR

Zip: M1B 2K4

Country: Canada

Phone: 416-292-0038

URL: www.GAORFID.com

More from Software