Pass and Seymour/Legrand is Ready for 2008 National Electrical Code Tamper-Resistant Requirement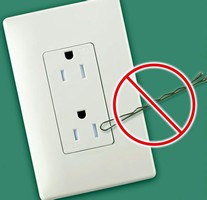 SYRACUSE, N.Y. (Nov. 19, 2007) - According to U.S. Consumer Product Safety Commission (CPSC) data, approximately 2,400 children are injured in incidents related to electrical receptacles each year. This equates to about seven children every day. Injuries range from electric shock to first-, second- and third-degree burns, with some rare cases proving fatal.

In response to these statistics the National Electrical Code® (NEC) has been revised, including a requirement for all receptacles in newly constructed residential units to be tamper-resistant. Most states and municipalities adopt new Code editions within two years, and Pass & Seymour/Legrand (P&S), a leading manufacturer of electrical wiring devices and home systems, will be ready with an exceptional line of tamper-resistant products.

"Historical adoption rates indicate that about 50 percent of the states will adopt this new edition in 2008, and P&S aims to make the transition as smooth as possible," said Bill Timmons, P&S Marketing Manager - Residential Products. "We've produced tamper-resistant products for years and will be prepared for the Code well in advance."

The revision, taking effect with the 2008 NEC, says:
"406.11 Tamper-Resistant Receptacles in Dwelling Units. In all areas specified in 210. 52. all 125-volt. 15- and 20-ampere receptacles shall be listed tamper-resistant receptacles.
Substantiation: 210.52 specifies the areas in dwelling units where receptacles shall be installed. This proposal references those areas."

P&S already provides an outstanding line of tamper-resistant products that use a patented, UL-listed shutter system to protect children from injury. However, the shutters don't impair normal plug insertion, removal or function.

Notable P&S offerings include Tamper-Resistant Hallway Light/Receptacle Combination Devices and Decorator Receptacles, which won the Home Safety Council's Commendation Award in 2006, and the Tamper-Resistant GFCI, which won the 2005 Innovation Award from Electrical Contracting Products.

In addition to these favorites P&S will have tamper-resistant versions of all receptacles used in residential installations.

For more information about any of the P&S Tamper-Resistant Receptacles, contact your P&S representative or visit www.passandseymour.com/troutlets.
Pass & Seymour/Legrand is a leading provider of electrical wiring devices, home systems and accessories in North America. For more information, call 1-800-611-7277 or visit www.passandseymour.com.

About Legrand
Legrand (www.legrandelectric.com) is the world specialist in products and systems for electrical installations and information networks, offering solutions for use in residential, commercial and industrial buildings. With a presence in more than 60 countries, Legrand employs over 33,000 people. Its catalogues list more than 130,000 products with sales totaling over $3.7 billion. Legrand is developing and reinforcing its technological leadership by constantly increasing the added value of its offerings.


More from Cleaning Products & Equipment