Parts Washing System offers eco-friendly cleaning solution.
Press Release Summary: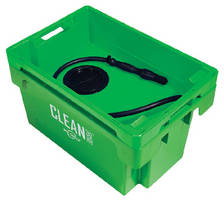 Used with Bio-Circle CB 100 water-based solvent, which is biodegradable and VOC-free, CleanBox Flow removes hardened greases, oils, and residues on small to medium industrial parts. System consists of sink and flow through cleaning brush, basin, and heavy-duty pump that circulates through contaminants. By minimizing dangerous chemicals that create fire hazards and toxic exposure risk, CleanBox Flow and CB 100 help protect workers while reducing need for waste removal and ventilation systems.
---
Original Press Release:

Walter Surface Technologies Unveils Bio-Circle Cleanbox Flow



A COMPACT, ECONOMICAL, SAFE AND ECO-FRIENDLY INDUSTRIAL PARTS CLEANING SOLUTION



Windsor CT — Walter Surface Technologies, a world leader in innovative performance solutions for the metal working industry, today announced the launch of CleanBox Flow, the newest addition to the family of Bio-Circle manual industrial parts washing systems. Suitable for the bulk cleaning of small to medium sized parts, the compact-sized CleanBox Flow is specially designed for use with Bio-Circle CB 100, the powerful, natural water-based solvent that is biodegradable and VOC-free. Together, the CleanBox Flow and CB 100 offer a safe, efficient, cost-effective, and eco-friendly replacement to solvents in virtually any type of MRO environment including shops, maintenance departments, garages, mining sites, sawmills, paper mills and food & beverage processing facilities.



"The launch of our new BIO-CIRCLE CleanBox Flow system is yet another testament to how our "MAKING GREEN WORK" mission of creating cost-efficient, high-performance and green products is an ongoing success story", stated Nathalie Vezina, Product Manager, Environmental Solution Systems, Walter Surface Technologies International.  "Today's forward-looking, environmentally responsible companies, including those with lighter applications, are demanding highly efficient, safe and non-toxic cleaning solutions that replace harsh and potentially dangerous solvents. I'm excited to announce that the innovative and user-friendly CleanBox Flow system clearly answers that call."



The CleanBox Flow system ultimately helps contribute to a safer and healthier working environment by cost-effectively replacing the need for harsh industrial solvents. The CleanBox Flow and CB 100 help improve the health and safety of workers by minimizing dangerous chemicals that create fire hazards and toxic exposure risks, while also reducing the need for costly waste removal, ventilation systems and insurance policy premiums.



BIO-CIRCLE CleanBox Flow

- About the parts washer system

The CleanBox Flow parts washer system consists of a sink and flow through cleaning brush, a basin and heavy duty pump that circulates through heavy oils, greases and contaminants. When paired with CB 100, the CleanBox Flow enables the quick and easy removal of hardened greases, oils, and residues on small to medium industrial parts. Its heavy duty construction and ergonomic design withstands rugged manufacturing environments. The CleanBox Flow is positioned as Bio-Circle's entry level system. It comes complete with an array of accessories making it versatile for a wide range of customer uses:

• The Bio-Circle Air gun facilitates the quick drying of industrial parts reducing the risk of flash rusting,

• The CleanBox Flow two-level cart puts the parts washer at the ideal height for working and makes the system mobile,

• The CleanBox Flow lid prevents dust and other contaminants from entering the system.



The system is compact and allows for easy storage in any work environment.



- About the cleaning liquid: CB 100 featuring Nature Boost

CB 100 is an all-natural, water-based solvent and is considered an advanced technology emulsion. CB 100 contains Nature Boost, Bio-Circle's exclusive new raw material derived from vegetable extracts that acts as a natural solvent with water to create an extremely powerful natural cleaner and degreaser. CB 100 easily removes greases, stubborn ink, rubber marks, tar, wax, carbon, soot, pastes and many other industrial contaminants. Its ready to use formula provides impressive cleaning potential at room temperature making it the obvious choice for manual cleaning, cleaning by immersion or pre-soaking as well as for use in ultrasonic baths. CB 100 is non-corrosive, bio-degradable and NSF certified. It is compatible with steel, stainless steel, aluminum, and non-ferrous metals.



The Bio-Circle CleanBox Flow system is now available across North America.



About Walter Surface Technologies

Walter Surface Technologies provides innovative solutions for the global metal working industry. From high performance abrasives, power tools, tooling, to industrial parts washing systems, cleaners, degreasers and lubricants.  Walter focuses on helping its customers work better. Founded in 1952, the company is established in 7 countries throughout North America, South America and Europe. The International headquarters is sited in Montreal and the US headquarters is located in Windsor, Connecticut. Key certification and awards include ISO 9001: 2008, Wall Street Journal Award; Deutscher Material Preiz; American Eagle Award; CleanTech Cleaning Technology Award.



For more information www.walter.com / www.biocircle.com

More from Fluid & Gas Flow Equipment