Parts Sorter inspects screw-machine, cast, or molded parts.
Press Release Summary: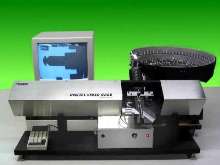 Model J181-T sorts small parts based on pre-programmed dimensional tolerances such as length, width, and diameter. Employing high-speed camera and Video Gage technology, sorter inspects each part and automatically places it into accept or reject bin. Suited for parts ranging in size from ¼-2 in., system inspects and sorts 3,600 part/hr with accuracy of ±0.0001 in. All measurements are available for data collection via serial port.
---
Original Press Release:

Low Cost Automatic Parts Sorter Performs 100% Inspection of Screw-Machine, Cast, or Molded Parts


Bergenfield, NJ -- A new automatic inspection machine sorts small parts based on pre-programmed dimensional tolerances such as length, width, diameter, etc. Several models are offered, for parts ranging in size from 1/4 in. to 2 in. Low in cost, the machine inspects and sorts up to 3600 parts per hour with an accuracy of ± 0.0001 in.

The unit is made by Resec Systems, Inc., Bergenfield, NJ, manufacturer of an extensive range of automated inspection and sorting systems. Employing a high speed camera and proprietary Video Gage technology, the new sorter inspects each part and automatically places it into an ACCEPT or REJECT bin.

In operation, parts are fed by a vibratory bowl feeder onto a gravity track which separates and individually places them under the camera for inspection. A video processor captures the image of each part, measures the pre-programmed feature(s), and places the part in the corresponding bin.

The sorter can be programmed for multiple parts, adding to its versatility. Complete software is included. All measurements are available for data collection via a serial port.

For full details on Resec's Model J181-T Automatic Parts Sorter, contact Resec directly.

A Video Clip showing the equipment in operation has been posted on the company's website and is available for download.

For further information, contact:
Robert Schulkin
Resec Systems, Inc.
93A S. Railroad Avenue
Bergenfield, NJ 07621
Tel: (800) 394 - 6758 Fax: (201) 384 - 6990
www.resecsystems.com, E-mail: sales@resecsystems.com

More from Mechanical Power Transmission