Parts Software works with SolidWorks.
Press Release Summary: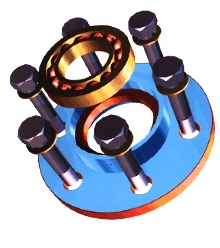 SolidMech v4.0 parts library software runs with SolidWorks 2001 Plus. Drag and drop lets component be picked and moved into SolidWorks assembly. During process, part is automatically mated whenever assembly feature has mating reference. Keyword search engine speeds the process of finding parts. Every SolidMech 4.0 part has custom property data attached, such as part name, manufacturer name, part type, and size. Parts lists may be created automatically.
---
Original Press Release:
Major New Release of Cadalog's SolidMech Now Out

Parts Library for SolidWorks Features Drag and Drop Components

BELLINGHAM, WA - April 2, 2002 --Cadalog,Inc. (formerly EMT Software) has just released SolidMech 4.0, adding several significant improvements to the world's most comprehensive parts library for SolidWorks. SolidMech 4.0 is a Gold Certified Product for SolidWorks and runs with SolidWorks 2001 Plus.

New Drag and Drop Feature
For quicker, easier parts use, a component may now be picked and moved directly from the SolidMech window into any SolidWorks assembly environment through the all new Drag and Drop function. During this process, the part is automatically mated whenever an assembly feature has a mating reference.

Streamlined Part Access
Cadalog has added a keyword search engine to the new release to speed the process of finding a part and has also expanded the number of the parts in the library. There are more assemblies, more industry standard components and new gear manufacturer catalogs. All SolidMech 4.0 users also have free and unlimited access to the Cadalog companion web site, PartsWorks.com, the world's largest online, native SolidWorks parts library.

BOMs and Bearings Better
Every SolidMech 4.0 part has custom property data attached, such as part name, manufacturer name, part type and size. Parts lists may be created automatically from this data through the SolidWorks BOM feature. Plus, in answer to user requests, SolidMech now creates bearings as a single SolidWorks part instead of an assembly.

System Requirements & Pricing
SolidMech 4.0 works with SolidWorks 2001 Plus. Price for new users is $195. Current SolidMech or Toolbox users can upgrade for $50. The previous version of SolidMech, release 3.3, continues to be available for SolidWorks 2000 and 2001 users at $195 new license and $50 upgrade.

Contact Info
For more information about SolidMech 4.0 go to www.cadalog.com/solidmech/ or www.partsworks.com. Contact Cadalog, Inc., at 851 Coho Way, #311, Bellingham, WA 98225; voice 1-800-698-1727 or 360-647-2426; fax 360-647-2890 or sales@cadalog.com.

About Cadalog, Inc.
Cadalog,lnc., formerly known as EMT Software, specializes in parts library software development and exporting American CAD products to the Asia market. Original parts library software products include SolidMech, PartsNow, SE-PartsXL, MECH 2D/3D and Auto-Z. CADalog.com and PartsWorks.com are also developed by Cadalog,Inc.

Press Contact
Carol Hays
Hays Communications
12814 Farm to Market Rd
Mt Vernon WA 98273
360-428-3707 voice
360-428-0380 fax
chays@sos.net

More from Electrical Equipment & Systems