Parts Leveler Control enables dead-flat, stress-free parts.
Press Release Summary: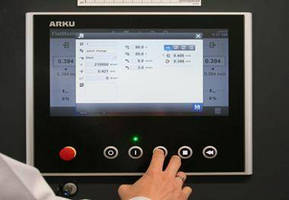 With FlatMaster® Parts Leveler control, novice users can produce dead-flat, stress-free metal parts on first try by entering material type and thickness. Control calculates Optimal Leveling Parameters for first part which can be fine tuned and saved for future use. Supporting all FlatMaster leveling capabilities, including 2-way leveling, reverse operation, and series leveling, control includes plausibility check, which evaluates entries and provides explanation of incorrect values.
---
Original Press Release:

Parts Leveler's New Control Makes Novice Users Experts



Stress-relieved, dead-flat parts can be as easy as entering two parameters.



ARKU's new control for the FlatMaster® parts leveler enables novice users to produce dead-flat, stress-free metal parts on the first try nearly every time by entering as few as two values: the material type and thickness. A simple operator interface of touch screen icons utilizes a vast database of material properties, "expert knowledge," part thicknesses, operating parameters and plausibility checks that allows new users to run the machine like experts with as little as 90 minutes training.



The new control accesses all of the leveler's functions with simple icons, much like a smartphone screen. By entering basic information on the workpiece, the control calculates Optimal Leveling Parameters for the first part. These parameters can be fine tuned by the operator and saved as a part program for future use. The control can store up to 1,024 part programs.



The new control supports all of the FlatMaster's leveling capabilities, including two-way leveling, reverse operation and series leveling. A plausibility check evaluates operator entries and provides an explanation of incorrect values to aid in learning.



The control provides a wide range of help and assistance functions. It also saves fault messages, which can be compiled and printed directly from the leveling log.



The servo-hydraulic FlatMaster is uniquely designed for leveling and stress relieving metal parts prior to welding, assembly or bending. It handles material thicknesses from 0.020" to 2.25", and up to 118" wide. Its small-diameter rollers on a small pitch produce a sharp initial bend in the material to stretch it past its yield point before returning the part to a dead-flat condition as it exits the machine.



The FlatMaster is extremely versatile, able to adjust its force instantly to compensate for the varying cross section of parts with large cutouts and perforations, or shapes such as triangles and circles. It is also ideal for appearance critical parts, often required for medical, packaging machinery, food, beverage and scientific applications. The machine leaves no marring, slag, or discoloration from heat.



About ARKU

ARKU, founded in 1928, is a world leader in roller levelers and press feeding technology with the world's most extensive range of high-capacity and precision levelers, and nearly 50 years' expertise in the field. With its headquarters in Baden-Baden, Germany, and ISO-certified facilities in Kunshan (China) and Cincinnati (USA), the business operates in almost 30 countries worldwide. The product range comprises precision levelers for parts, cut-to-length and slitting lines, press feeding lines and coil preparation lines for roll formers. ARKU provides engineering expertise to many manufacturing industries, including automotive, railroad equipment, shipbuilding, construction and furniture, as well as laser job shops and others. www.arku.com

Related