Parts Cleaning System has basket rocking and full rotation.
Press Release Summary: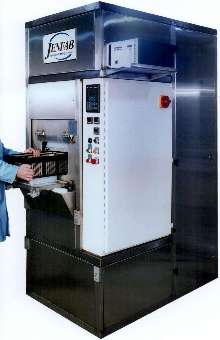 LeanClean(TM) 360 Cellular Basket Aqueous Parts Cleaning System provides variable-speed, multi-directional rocking of baskets containing parts to be cleaned. Parts can be rocked from 5° to 60° on each side of basket centerline. Unit incorporates complete immersion of components in conjunction with high pressure, submerged turbulation, and high volume spray in wash and rinse cycles. Its automated, variable speed wash/rinse and dry cycles processes 10 to 20 baskets/hr.
---
Original Press Release:

Basket Rocking Now Available on LeanClean 360 Cell Parts Washers


Berlin, CT - JENFAB® (Jensen Fabricating Engineers, Inc.) now offers the LeanClean(TM) 360 Cellular Basket Aqueous Parts Cleaning System with basket rocking as well as full rotation.

This optional feature, exclusive to JENFAB®, provides variable-speed, multi-directional rocking of baskets containing parts to be cleaned. Parts now can be rocked from 5 to 60 degrees on each side of the basket centerline. This feature is especially useful for parts that can't be fully rotated.

JENFAB incorporates basket rocking, complete immersion of components in conjunction with high pressure submerged turbulation, and high volume spray in the wash and rinse cycles for maximum effectiveness and efficiency. The LeanClean 360 provides automated, variable speed wash/rinse and dry cycles and processes up to 10 standard or 20 small baskets per hour. It also features a compact footprint (5' x 3') for minimal space requirements.

JENFAB® offers the most extensive line of immersion agitation cleaning systems in the industry. The firm designs and builds a wide variety of multi-station washers that process parts in baskets, racks or barrels, and are ideal for machined parts, castings and stampings.

JENFAB® produces compact cellular systems for lean manufacturing, multi-stage, and automated systems for in-line production. These systems can remove oil, grease, metallic fines and chips, and process loads from 50 to 35,000 lbs/hr. Since 1960, JENFAB® has been a leading designer and supplier of aqueous cleaning systems to the aerospace, automotive, bearing, stamping, electronics, screw machine, plastics, and fastener industries.

For further information, contact:
Jensen Fabricating Engineers, Inc.
555 Wethersfield Rd.,
Wethersfield, CT 06109
Berlin, CT 06037
Phone: 860/828-6516
FAX: 860/828-0473
http://www.jenfab.com

More from Electrical Equipment & Systems