Partnering in Success, Ipsen Performs Challenging Installation for Mercedes-Benz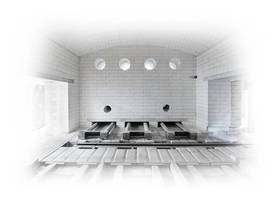 CHERRY VALLEY, IL – Companies all have unique needs and situations; in the case of Mercedes-Benz, they not only needed a furnace for the thermal processing of gearbox parts, crown wheels and drive pinion wheels, but they also needed the entire system to be installed in a limited space. In an effort to solve this challenge, Ipsen created and delivered a special atmosphere heat-treating three-row Pusher system that required comparatively less floor space and power consumption.

Ipsen continued to provide solutions during this installation, utilizing the available space by carefully linking the high- and low-temperature furnaces, cleaning systems and quenching equipment – all of which provided flexibility for the various types of parts and minimized the space needed. In the end, Ipsen used a highly integrated transfer machine to service the entire system and required components in the compact area.

The Pusher furnace utilizes three rows in all of its main operating zones and is the first continuous heat treatment furnace from Ipsen to feature the new, patented Lock up system. This system incorporates an entrance vestibule and an oil bath, both of which are separated from the Pusher furnace's heat treatment chamber by gas-tight doors. The furnace atmosphere thus fluctuates less in terms of temperature and carbon potential, resulting in precise, steady characteristics which are easy to monitor and can be adjusted accurately.

The Pusher system also employs time-tested, durable Ipsen masonry consisting of refractory bricks for hot face insulation and microporous material for backup insulation. Compared to conventional designs, this results in up to a 30 percent reduction of waste heat, as demonstrated by comparatively lower process costs.

No matter your challenges or needs, Ipsen is a source you can rely on to produce particularly demanding solutions, as well as reduce the running costs of these systems. To read the entire article on this Pusher system installed at Mercedes-Benz, the challenges Ipsen solved and the features this special heat-treating furnace offers, visit http://bit.ly/3RowPusher.

About Ipsen
Ipsen designs and manufactures industrial vacuum furnaces, atmosphere furnaces and supervisory control systems for a wide variety of thermal processing markets, including: Aerospace, Commercial Heat Treating, Medical, Energy and Automotive. With production locations in Europe, America and Asia, along with representation in 34 countries, Ipsen is committed to providing support for customers worldwide. Choosing Ipsen means choosing a partner in success.
More from Thermal & Heating Equipment