Parting-Off Blades feature adjustable edge heights.
Press Release Summary: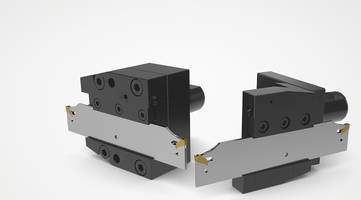 Designed to fit VDI Turrets, 150.10 JETI Family Parting-Off Blades with VDI block design offer streamlined delivery of high-pressure coolant to cutting zones. Combination of blades and adapters is used for removing heat during parting-off operations, unit's coolant holes allows the transfer of coolant to cutting zone via turret. HSS parting off blades are available in 20 mm and 25 mm size.
---
Original Press Release:
Seco Expands Line of Highly Effective Parting-Off Blades to Fit VDI Turrets
Seco Tools line of 150.10‑JETI family of parting-off blades and square-shank blocks now includes a new VDI block design. Adapters directly hold the 150.10-JETI parting-off blades onto the VDI turret and offer streamlined delivery of high-pressure coolant to the cutting zone without the use of hoses.
These blades and adapters quickly and efficiently remove heat during parting-off operations, resulting in high levels of productivity and long, predictable tool life. Coolant is delivered internally to the adapter via the turret and then reaches the cutting zone through the coolant holes in the blades. The fast, direct transfer of coolant to the cutting edge is made possible by Seco's advanced Jetstream Tooling® technology.
The 150.10-JETI family safely and effectively evacuates chips for better finished part quality and tool life. Adjustable edge heights optimize positioning.
The 150.10-JETI expansion includes face mount adapters for VDI30, VDI40 and VDI50 turrets and star mount adapters for VDI25, VDI30 and VDI40 turrets. The adapters hold 20-mm and 25-mm HSS parting-off blades. The range is also compatible with MDT reinforced blades with internal coolant.
For more information on VDI blade adapters, please contact a local Seco representative or visit https://www.secotools.com/article/m_7118.
About Seco Tools, LLC
Seco Tools, LLC is a leading provider of metalcutting solutions for milling, turning, holemaking and toolholding. The company prides itself on building close relationships with customers to effectively understand and address their needs. For more information on the company's products and services.
Contact
Bob Heery,
Seco Tools, LLC,
2805 Bellingham Drive,
Troy, Michigan,
Tel: 248.528.5451,
Email: bob.heery@secotools.com,
Related